Public invited to ribbon-cutting ceremony April 29 for accessible pavilion at Wells Overlook Park
---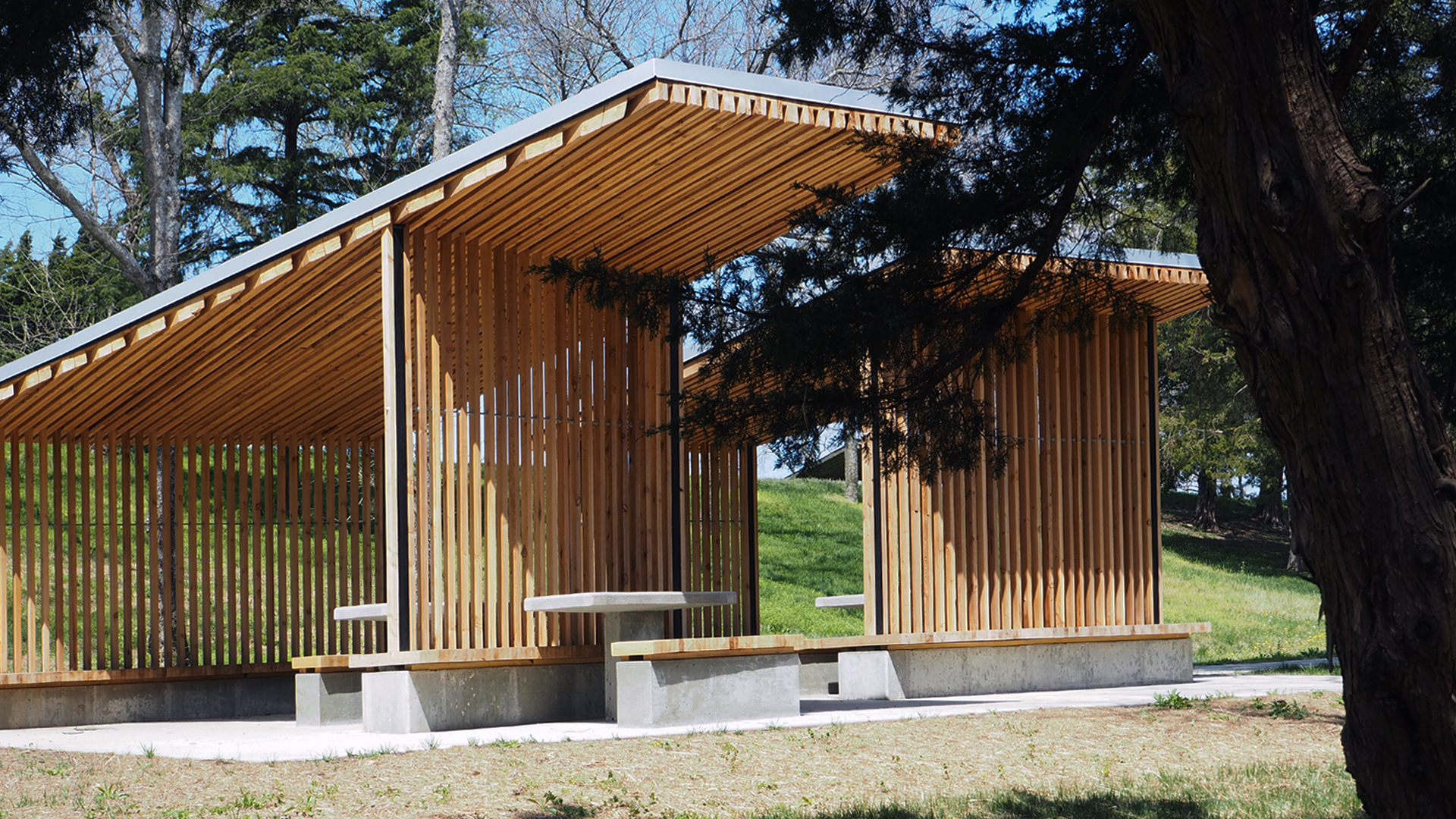 LAWRENCE – The University of Kansas School of Architecture & Design invites the public to a ribbon-cutting ceremony for the Polaris Pavilion – the second of two universally-accessible projects at Wells Overlook Park designed and built by Dirt Works Studio students in collaboration with the Douglas County government – at 4:30 p.m. Friday, April 29.
Created by third and fourth-year design-build students in Dirt Works Studio during the fall and spring 2021 semesters, the Polaris Pavilion is an ADA-accessible pavilion nestled within a grove of native trees. The pavilion is organized in two volumes – a smaller north shelter and a larger south shelter, both with seating and picnic tables. Wood screens support the pavilions and provide filtered shade while allowing views of the surrounding landscape.
Together, the Polaris Pavilion and the Passerine Pavilion – the first design-build project completed by Dirt Works Studio at Wells Overlook Park – provide greater access to the ecology, landscape and miles-long views that have drawn visitors to the park for years. 
Wells Overlook Park is located 3/4 mile east of US59 on the south side of County Route 458 (N. 1000 Road). See map.
The students involved in creating the Polaris Pavilion are: Emily Almloff, Overland Park; Dakoda Ash, Spicewood, TX; Alexa Balkema, Littleton, CO; Harleigh Brandon, Bella Vista, AR; Camden Broddle, Bel Aire; Gwendolyn Comas, Manhattan; Nicholas Einig, Chesterfield MO; Claudia Frahm,  Saint Louis; Liz Fraka, Shawnee; Bridget Gerstner, Kansas City, MO; Anna Hampton, Denver; Kodi Hayes,  Florissant, MO; Kalyn Henderson, Naperville, IL; Christian Hunn, Lake Saint Louis, MO; Hannah Juelfs, Imperial, MO; Lydia Juengling, Marthasville, MO; Andrew Jundt, Fenton, MO; Jennifer Jurado, Kansas City; Tyler Koory, Papillion, NE; Nolan Lodholz, Saint Louis, MO; Annemarie Loyd, Wildwood, MO; Lauren Maloney, Buffalo Grove, IL; Madisyn Mellema, Lenexa; Katrina Mills, Kansas City; Katherine Neyer, Saint Louis, MO; James Noteman, Glenview, IL; KayLee Nottestad, Tecumseh; Clayton Plaster, Ballwin, MO; Tylor Poitier, Kansas City; Rapheal Prevot, Kansas City, MO; Jake Rajewski, Lawrence; Brenna Richart, Kansas City, MO; Graylon Sestak, New Albany, OK ; Andrew Stender, Oshkosh, WI; Erica Villamayor, Creve Coeur, MO.
Dirt Works Studio is led by architecture professor Chad Kraus.