This year on Monday, October 23, KU school of Architecture & Design will host the 10th annual mock interview night for architecture / interior architecture students. This event is designed to get you ready for the career fair in February. This is a great opportunity to practice interviewing and receive feedback from professionals in a low pressure, fun environment. Network with over 40 professionals representing firms from coast to coast.
Schedule
5:00 PM – 5:30 PM network and eat
5:30 PM – 6:00 PM introductions and opening panel
6:00 PM – 7:30 PM mock interviews
7:30 PM – 8:00 PM closing panel discussion
This event is sponsored by Multistudio
Multistudio is the evolution of Gould Evans. Our new identity reflects how we think, embracing the multiple ways in which we design to uncover possibilities and engage with the world.
Multistudio collaboratively expands the practice of architecture, brand experience, city design, education design, and interiors to serve complex, and even contradictory needs of our clients and communities. The diversity of thought, people, and disciplines helps us explore place and spark possibilities of economic, social, and environmental change. And although we take on a variety of projects, neither size nor type dictates their importance.
Their impact does.
Within Multistudio, we bring multiple perspectives, talents, and expertise to each design opportunity, exchanging design dialogue and discourse to address broader challenges and solutions. This overlap of design breeds innovation that challenges the status quo, and results in a more meaningful outcome for our clients beyond what we could have imagined alone.
Collectively, with our people, collaborators, and communities, we grow through the making of projects between and across our interconnected practices:
Architecture
Brand Experience
City Design
Education Design
Interiors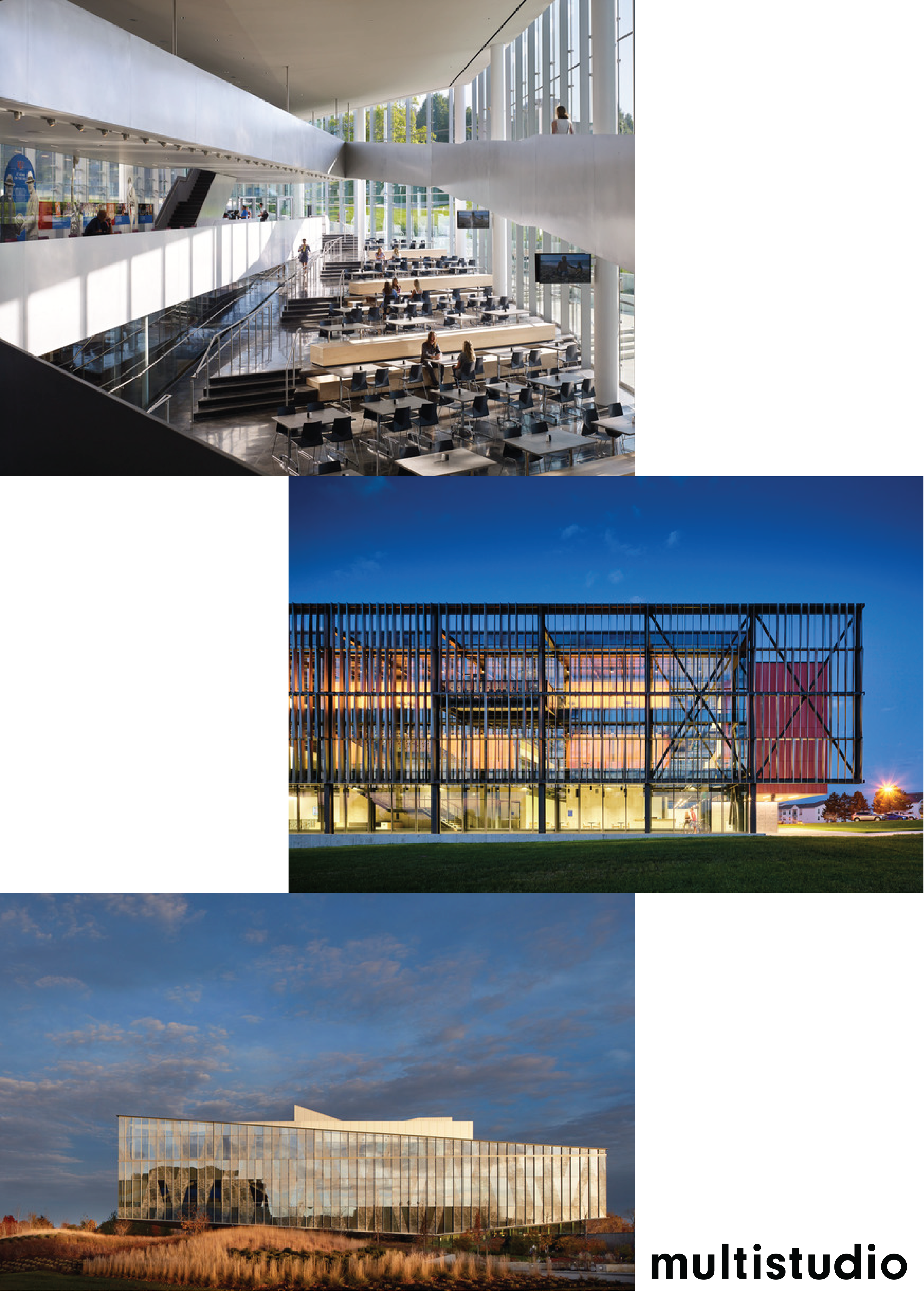 Additional Participating Firms 
Arcadis
Arcadis is the world's leading company delivering sustainable design, engineering, and consultancy solutions for natural and built assets. We are more than 36,000 people, in over 70 countries, dedicated to improving quality of life. Based in Amsterdam, Arcadis has 121 offices in the US and over 250 worldwide.
Bjarke Ingels Group (BIG)
BIG is a Copenhagen and New York based group of architects, designers, builders and thinkers operating within the fields of architecture, urbanism, research and development. The office is currently involved in a large number of projects throughout Europe, North America, Asia and the Middle East.
BRR
We're a national architectural design firm located across the United States, and our history spans decades. Our design process is collaborative with each and every client, and we provide full-scope architectural design services, including virtual reality, interior design, code services and more. We have 10 offices spanning the United States with 300+ team members and 90+ licensed architects.
Burns & McDonell
Burns & McDonnell is a family of companies bringing together an unmatched team of 13,500 engineers, construction and craft professionals, architects, and more to design and build our critical infrastructure. With an integrated construction and design mindset, we offer full-service capabilities from a 100% employee-owned team with 70+ offices across the country and throughout the world.
CannonDesign
Cannon is a design practice at the nexus of strategy, experience, architecture, engineering and social impact. We're a global community of more than 1,200 people with incredibly diverse backgrounds, experiences and talents. With offices in 16 locations and partnerships that span the globe.
DLR Group
DLR Group is an integrated design firm delivering architecture, engineering, interiors, and planning for new construction, renovation, and adaptive reuse. Core areas of design expertise include Civic, Courts, Detention, Energy Services, Federal Markets, Higher Education, Hospitality, Housing, K-12 Education, Museums, Performing Arts, Retail/Mixed-Use, Sports, and Workplace.
Gensler
Gensler is a global architecture, design, and planning firm with 53 locations and 7,000 professionals networked across the Americas, Europe, Greater China, Asia Pacific, and the Middle East. The firm works globally with more than 4,000 clients across more than 29 practice areas spanning the work, lifestyle, community, and health sectors.
GFF
GFF is a distinguished, award-winning, multi-disciplinary design firm based in Dallas, Fort Worth and Austin with a passion for creating memorable places. Today our staff of 140 offers architecture, interior design, planning and landscape architecture throughout the US. Over the years, we have had successful engagements spanning a broad range of building types and diverse experience with corporate, real estate, and institutional clients.
HOK
HOK is a global design, architecture, engineering and planning firm. Our 1,700 people collaborate across a network of 24 offices. HOK designs buildings and spaces that respond to the needs of people and the environment.
HTK Architects
HTK Architects has cultivated a breadth of experience designing Civic, Corporate, Healthcare, Higher Education, Judicial, K-12 Education, Military, Religious, and Sports & Recreation facilities. With offices in Topeka and Overland Park, our team continues to grow, completing new design, addition, and renovation projects throughout the region.
JGMA
JGMA is a progressive architecture and design practice committed to active community involvement and the enrichment of peoples' lives through the attentive and dynamic organization of space and materiality. JGMA is devoted to serving the diverse neighborhoods which make Chicago an incomparable place to live, work, and visit. Founded in 2010, JGMA was built on a groundwork that champions comprehensive investment in ideas and ideals.
KPF
KPF is a unified architectural practice focused on the design of buildings of all types and scales, in all geographic regions. KPF is a global organization that operates as a single firm, headquartered in New York City, with offices in San Francisco, London, Berlin, Hong Kong, Shanghai, Shenzhen, Singapore, and Seoul.
Lamar Johnson Collaborative (LJC)
LJC is a full-service design and architecture firm committed to enhancing the quality of the human experience and to improving how design and architecture can impact everyone's emotional being. We are growing in both Chicago and St. Louis and are harnessing the power of integrated design, including architecture, interior design, landscape architecture, urban planning, and engineering, the company achieves its clients' goals and aspirations.
Mammoth
Mammoth is a modern master build firm dedicated to building the places where passion and community collide. We consult, create, and construct sports projects of every size for every team and conference. Located in Kansas, we work with colleges and professional teams in every corner of the country,
Mitchell and Hugeback Architects (M+H)
M+H Architects was founded in 1989 as Mitchell and Hugeback Architects. Our story is rooted in how we combine industry experience, creative architecture and advanced technology to build the future of our clients' businesses. Located in St. Louis, M+H consistently delivers creative and innovative solutions that meet projects' budgets and schedules.
Momentum Worldwide
Momentum Worldwide is an agency of doers. We make the industry's most disruptive, entertaining, shareable, unforgettable experiences for our clients and their fans. Whether it's a physical activation, a virtual experience, or a piece of unique branded content, it's all part of what we call the Total Brand Experience — ideas that solve business challenges, through best-in-class Consulting, Strategy, Analytics, Experience Design and Production. Over 20 locations in North America, South America, EMEA, and Asia-Pacific.
Odimo
Architecture. Design. Consulting. Odimo is a vision-driven architecture and interior design practice with a focus on higher education, laboratories, affordable housing, and select commercial work in the urban core. We build long-term, repeat client partnerships by providing high quality architecture and interior design, ongoing service, and tailored project management.
Perkins Eastman
Founded in 1981 in New York City, Perkins Eastman is a global architecture firm that has grown to include 1,000 employees working out of a combined 17 interdisciplinary offices around the world. From education and healthcare to mixed-use and transit-oriented developments, we design for a sustainable and resilient future, and to enhance the human experience through the built environment.
Patterhn Ives
Patterhn Ives is a women-owned small business based in St. Louis, Missouri and West Chester, Pennsylvania. Our offices are comprised of highly motivated professionals that share a passion for design excellence, environmental stewardship, community engagement, and high-performance projects that strive to exceed client needs and aspirations. We offer competitive salaries and benefits within a supportive environment that fosters individual and collective growth.
Perkins & Will
Perkins & Will is dedicated to creating environments where people live happier, healthier lives. To working collaboratively with our clients—engaging, listening, questioning—until, together, we exceed expectations. We have more than 40 locations across the globe and strategic partnerships with Lyft, Google, Harvard University, the U.S. Centers for Disease Control and Prevention, and others that give us an unprecedented platform on which to experiment, explore, and introduce design excellence ideals for the next generation.
PGAV
PGAV creates remarkable places for people: places to work, learn, discover, play, and enhance their communities. The team offers a wide spectrum of services, including site development, financial feasibility studies, and architecture. Our team of over 150 professionals, located in Kansas City and St. Louis, bring energy and creativity along with the belief that design can be transformative. 
PGAV Destinations
PGAV Destinations is one of the world's largest independent design firms, serving as a leading master planner and designer of theme parks, zoos, museums, aquariums, heritage sites, destination retail, and brand-based experiences. With 100+ full-time team members in 35+ states on 5 different continents, we're sculptors, designers, architects, artists, and strategists devoted to something bigger than experiences alone.
Six Twenty One
We are a design studio dedicated to creating modern, lasting spaces and communities that promote living a joyful life. SixTwentyOne designs spaces that are lasting, simple, and tailor made for each client. Located in Kanas City, we have more than 20 years of experience in the field of architectural and interior design.
Skidmore, Owings & Merrill (SOM)
Skidmore, Owings & Merrill (SOM) is a global collective of architects, designers, engineers, and planners, responsible for some of the world's most technically and environmentally advanced buildings and significant public spaces. The firm's approach is highly collaborative, and its interdisciplinary team is engaged on a wide range of international projects, with creative studios based across the globe.
SmithGroup
SmithGroup is one of the world's preeminent integrated design firms. Working across a network of 20 offices in the U.S. and China, a team of 1,300 experts is committed to excellence in strategy, design and delivery. Whether it's creating a space to heal patients, advancing research and discovery, inspiring through learning environments, building businesses or protecting resources, our goal is to design a better future for everyone.
Studios
We create living, breathing structures that inspire and serve. We design spaces that uplift the people who experience them every day. We plan cities, universities, and campuses as living organisms able to adapt and thrive. We open up more prosperous futures for organizations and people. Offices located in Washington, DC, San Francisco, New York, Los Angeles, Paris, and Lyon.
TreanorHL
TreanorHL is a nationally recognized full-service planning and design firm with eleven offices across the U.S.  We provide exceptional design solutions tailored to satisfy our client's unique and complex design challenges. We believe in creating inspired experiences by connecting people and place through informed design.