Interior Architecture
---

The BS in Interior Architecture (IA) program at KU is a comprehensive, interdisciplinary, professional education that prepares graduates to be leaders in the interior architecture and design professions. In October 2022, the IA Program received the CIDA (Council for Interior Design Accreditation) Candidacy status.
Through career-focused instruction in a collaborative studio environment, students learn to create innovative, equitable, and meaningful interior environments that support the human condition and improve the ecological health of the planet. Research-driven, evidence-based, and human-centered design processes are reinforced by learning experiences that reflect the present and future practice.
The four-year program is aligned with the School's accredited Master of Architecture degree. With less than two years of additional courses, students may complete the requirements for an innovative, joint Bachelor of Science in Interior Architecture - Master of Architecture degree. 
The mission of the Interior Architecture program at the University of Kansas is to educate future professional leaders of interior design. Students focus on innovative, equitable, holistic, and meaningful interior environments that support the human condition and improve the ecological health of the planet. The program inspires students through research-driven, evidence-based and human-centered design processes, as well as by providing practice-based learning experiences, design-build opportunities and a global perspective. 
Inculcate IA students to become leaders in the interior design profession who promote the value of interior design in the society and become agents for social change through design.  
Provide IA students with a comprehensive undergraduate education built on methodical design processes, critical thinking and high creativity, supported by a wide range of knowledge bases and technological fluency. 
Cultivate an interdisciplinary and profession-based design education, supported by various resources within the School of Architecture and Design.
Curriculum
The Interior Architecture program at KU will prepare you to make an impact as an innovative professional and creative visionary.
All first-year interior architecture students at KU complete a common sequence of courses. This shared experience welcomes students into a creative community unlike any other. You will be supported, mentored, and challenged as you enhance your technical skills and critical perspectives in a rigorous, inspiring studio setting.
As you progress through the program, you will gain confidence to go farther than you thought possible. Exciting design-build projects, world-class facilities, and opportunities to work with professionals on real-world projects will give you the tools you need to thrive as a future-focused practitioner in a critically important and in-demand career field.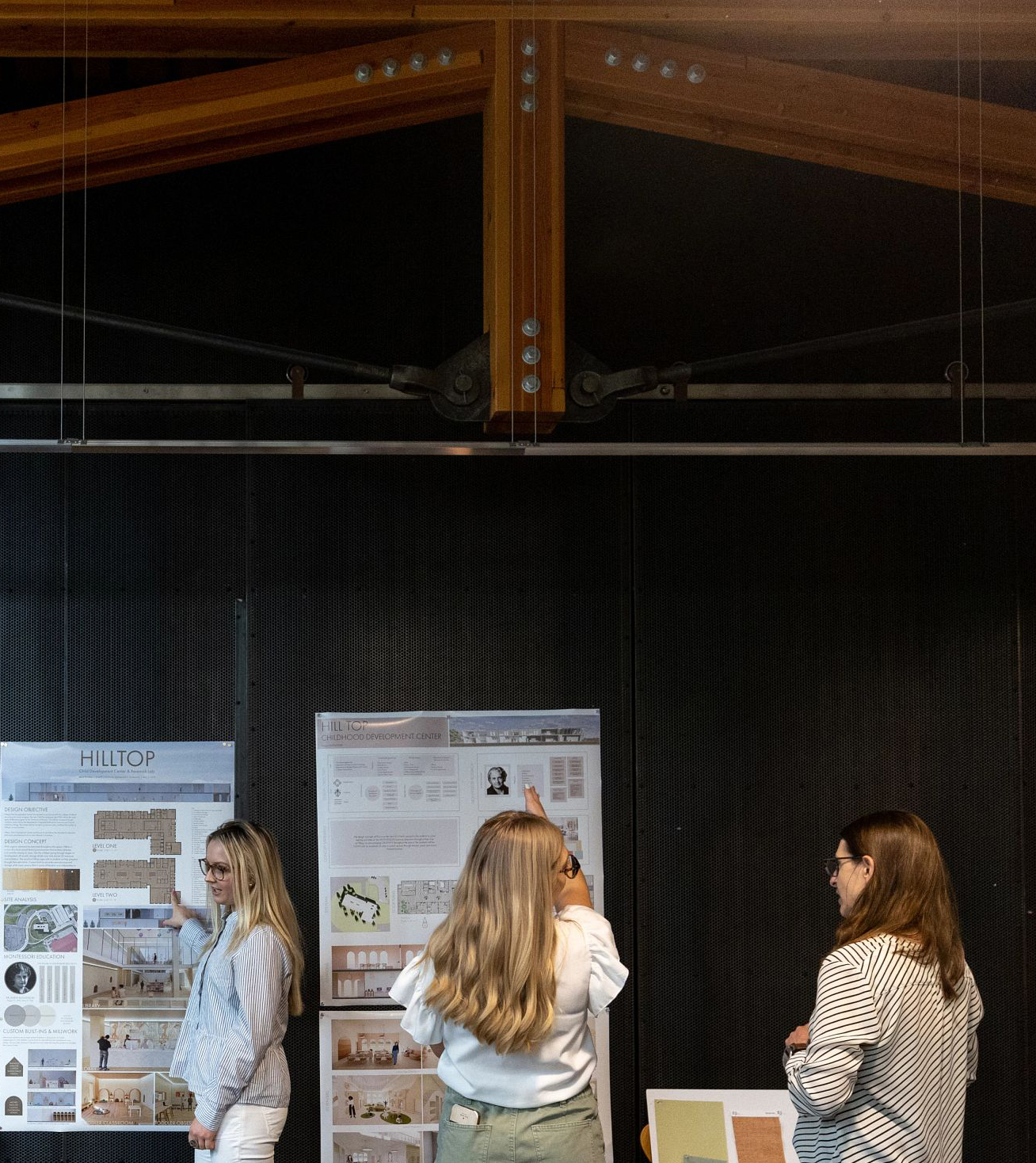 Facilities and Resources
Inspiring studio spaces and advanced labs allow interior architecture students to explore and create with professional tools in a collaborative creative environment.
The School's East Hills Design-Build Center, the world's largest academic design-build facility, allows students to create ambitious projects at any scale.
Material sample collections provide students with opportunities to discover and test interior finishes and building materials ranging from woods and metals, to ceramics and innovative biopolymers, textiles and more.
The Pulse Design Group Simulation Lab is a facility unlike any other in the region. It gives students the capability to explore their own digital models in three dimensions and at human scale.  
Digital fabrication labs include CNC routers, laser cutters, robotics, and other machine-driven tools.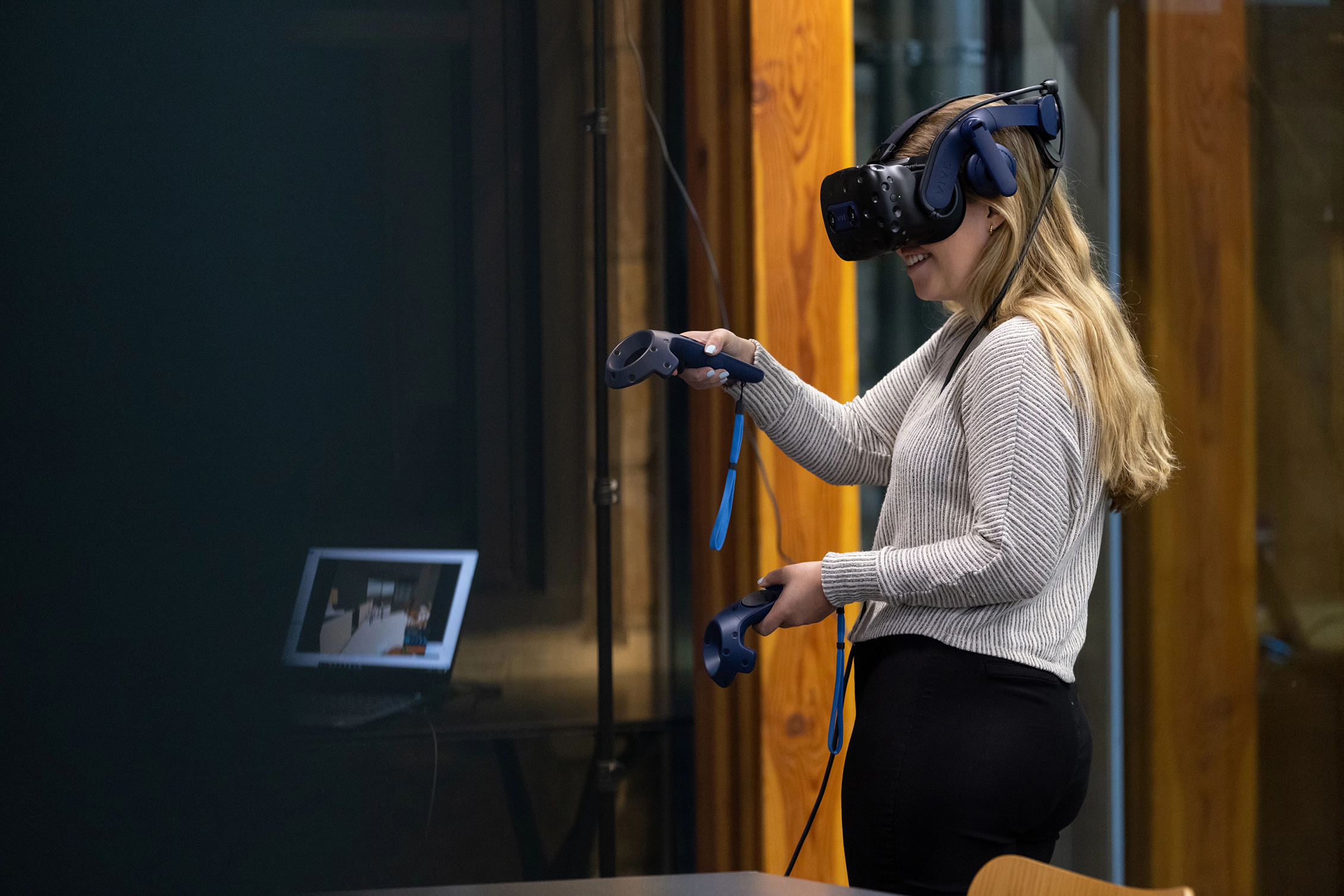 Careers
Because career preparation is integrated into all areas of the KU Interior Architecture student experience, your journey towards professional life begins the moment you step on campus.    
KU Interior Architecture faculty are practitioners and educators dedicated to providing graduates with the skills and experiences needed to flourish in a profession that is vital to the health, safety, and happiness of people around the world. Interior architects are responsible for making sure that everything that influences the function and perception of a space is effective. From hospitals and offices to housing and retail, interior architects ensure that interior spaces meet the needs of both the building's owner and its users.
The School has an extensive network of local and global firms which support professional experiences through industry-engaged studios, internships, and a variety of School-sponsored programming that connects students to professionals.