2023 Architecture Student Portfolio Awards
Since September 2021, the Architecture Department has led a portfolio review process for our 3rd and 4th year M.Arch Students. Our goal for this initiative is to 1) build a culture of support for our students as they develop their folios, 2) increase faculty conversations around what we are collectively teaching, and 3) connect our students with alumni and practicing architects through the folio review process. Through this collective effort, we have identified over 100 folio-finalists and of those, our external reviewers recognized 24 folios as exemplary.
Reviewers
Many thanks to the faculty, final-year students and alumni that have rallied around our young students with their generous gift of time and experience! 
Todd Achelpohl, Thom Allen, Alejandro Aptilon, CJ Armstrong, Dakota Ash, Alexa Balkema, Hui Cai, Jae Chang, Joe Colistra, Shannon Criss, Mohammad Dastmalchi, Bridgett Espino Dastmalchi, Richard Findley, Nils Gore, Bryan Gross, Steve Harrington, Kurt Hong, Lydia Juengling, Farhan Karim, Chad Kraus, Jadyn Landreth, Sienna Leon, Marie-Alice L'Heureux, Herminia Machry, Andrew Moddrell, Bushra Nayeem, Ryan Nguyen, Abbey Ockinga, Steve Padget, Anne Patterson, Marianne Remboldt, Hugo Sheward, Kapila Silva, Kent Spreckelmeyer, Julianna Ribble, Amy Van de Riet, Keith Van de Riet, John Trefry, Ethan Witt and Frank Zilm.
BNIM: Elvis Achelpohl, Matt Kella, Jeremy Knoll, Ryan McCabe, Sarah Murphy; BRR Architecture: Jon Gripka, Sarina Shanks; CannonDesign: Arjun Bhat, John McAllister, Amy Phillips; Davis Partnership Architects: Dominic Senska; Gastinger Walker&: Nikola Braynov, Kevin Harden; GFF Architects: Yasmin Al-Jafari, Mo Alsinan, Idalaza Camacho, Tyler Cini, Josh Frederick, Carson Guy, Mia Ovcina, Jeremy Roehr, Blake Thames, Mariah Trevizo, Deniz Soydan, Becca Vahlcick, Jim West; HDR, Inc: Melanie D'Souza, Maria Katticaran; Hoefer Welker: Nick Lawler, Kelly Whitney; HOK: Mark Horne, Jerry Philbin, Melissa Watson, Andrew Zell; Herron Horton Architects: Jennifer Herron, Jeff Horton; HNTB: Allison Hawk, Matthew Livingston, Robbie Powell, Jack Swezy; Kiku Obata & Company: Kevin Flynn; JHP Architecture / Urban Design: Jonathan Brown; Lever: Henry Lennon; LS3P: Elaine Gallagher Adams; M+H: Haley Dougherty, Larry Valenza; Mitchell Wall Architecture & Design: Thomas Wall; Modus: Clemente Jaquez, Mike MacGregor, Joey Na, Justin Zumel; Multistudio: Damon Baltuska, Tabitha Darko, Jay Holley, Matt Nugent; NBBJ: Dan Ayars; PGAV Architects: Pat Duff; Patterhn Ives LLC: Jonathan Wirth; Populous: Zach Allee, Bill Bourne, Hugo Cabrera, Colleen Cassidy, Chris Isenhower, Ben Naudet, Alex Ogata, Megan Rand, Bryan Schmidt, Will Shadwick; TK Architects International: Mike Cummings; TreanorHL: Neal Angrisano, Andrew Pitts; University of Virginia: Lincoln Lewis
Finalists
Coral Aboud, Yurida Alviter-Rivera, Blake Becker, Brennen Berends, Meaghan Booth, Shawna Chase, Jay Clements, Louis Cobb, Adam Cory, Isaac Decker, Kaitlyn Dunn, Fernando Echauri, Halle Emrich, Emily Flachs, Grant Fraikor, Brendan Gannon, Luke Griffin, Isabela Guerra, Ryan Haight, Tanya Han, Liam Hartigan, Ava Hause, Emma Herr, Hanna Hissa, Jordyn Knox, Ensa Laird, Aria Lynch, Crayton Maurer, Mallory McGraw, Erin McMahon, Reece Mehrens, Paulo Murguia, Jasmine Nguyen, Caleb Peters, Micah Ramsay, Emily Schrumpf, Sophey Schutt, David Tauser, Benjamin Tentis, Lexie Wolff, Vincent Yogasara, and Elizabeth Zareh.
Leo Aguilar-Behsman, Nadia Al-Ani, Emily Almloff, Alex Asbury, Madison Beck, Cora Blackford, Jackson Bontty, Sarah Boyle, Jenna Bracaglia, Harleigh Brandon, Karis Buendia Davila, Elizabeth Calvert, Gwendolyn Comas, Kimberly Coulon, Geoffrey Dugopolski, Kevin Dunne, Nicholas Einig, Liz Fraka, Claudia Frahm, Abby Frankenreiter, Michael Garrett, Bridget Gerstner, Kyle Gilboy, Jodi Gore, Eryn Herrara, Zakk Hoferer, Abby Icenhower, Abby Kahrhoff, Lauren Land, Alexander Lamoureux, Milena Laera, Julia Larkin, Jack Leff, Mikala Liley, Alex Martin, Garrett Miller, Sarah Moore, Ethan Overland, Sophie Palma, Madison Parr, Cooper Plaster, Tylor Poitier, Brooks Quinby, Ashlyn Reece, Alvaro Rojas, Marcus Ross, Annie Rouse, Madison Schaefer, Graylon Sestak, Morgan Siemers, Abraham Simon, Madison Smith, Liz Stone, Sara Strouse, Matthew Teahan, and Rajeshwari Thorat.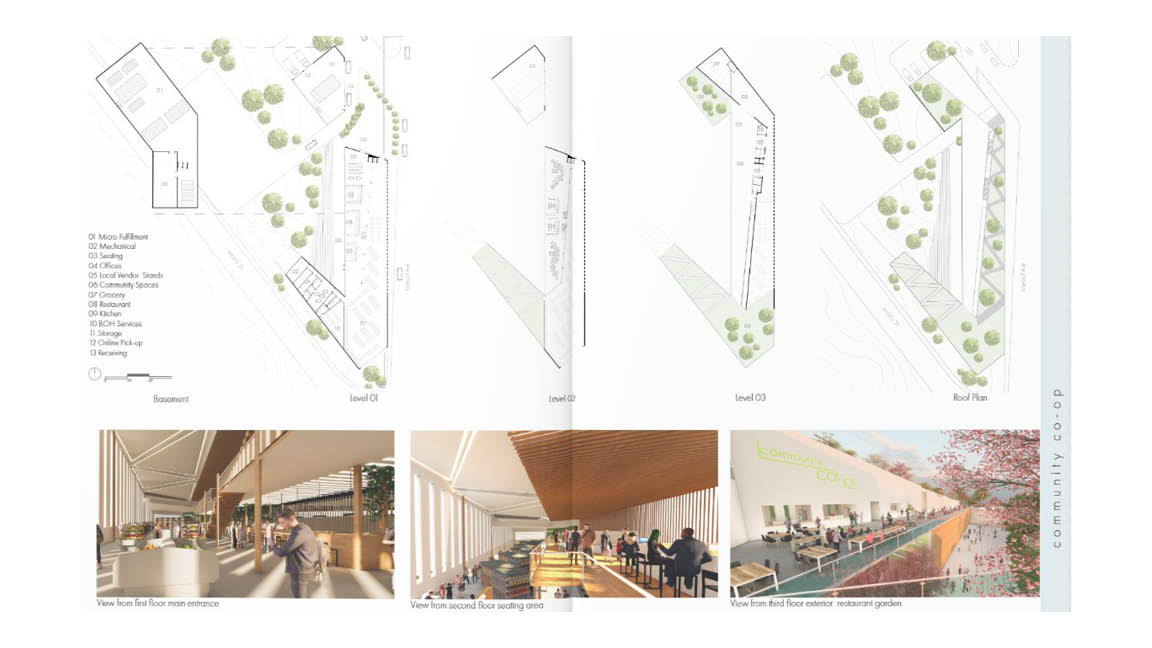 Halle Emrich
"The presentations of each project seem to respond to the design and provided exhibits very well. It is organized as a whole but still
individualized by project."

"As a third-year student it is refreshing to see the variety of project types Halle has experienced so far."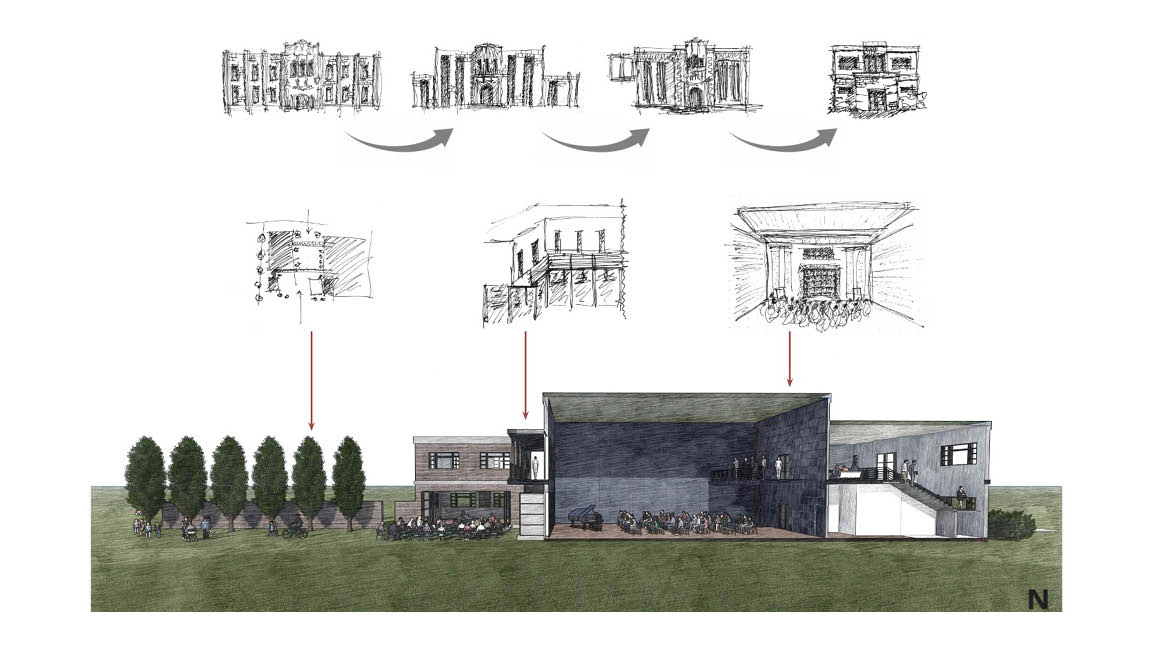 Luke Griffin
"A great collection of scales from pavilion / kiosk to a complex program for the grocery store project. I enjoyed seeing the variety of project types and scales."

"It's clear to me throughout that you value sketching —and use your practice for communication, not just observation or representation."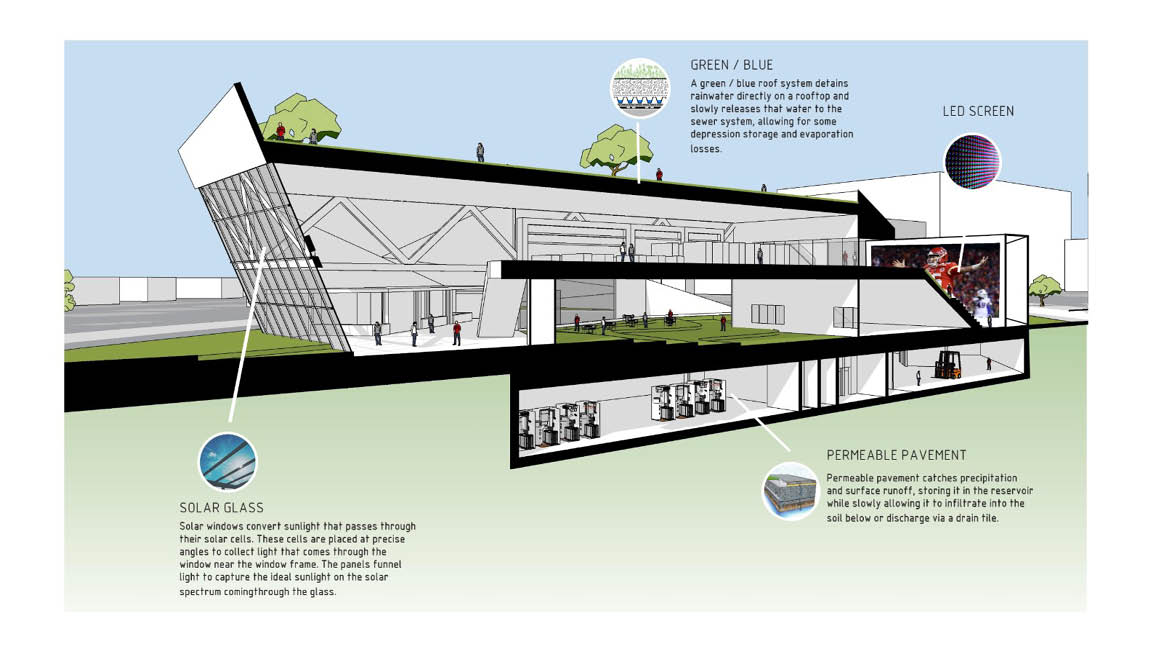 Isabela Guerra
"The graphic style kept me engaged and showcased a great eye for design."

"Excellent presentation and graphic style. The creativity behind all the projects represented showed me that this student will have a successful career ahead."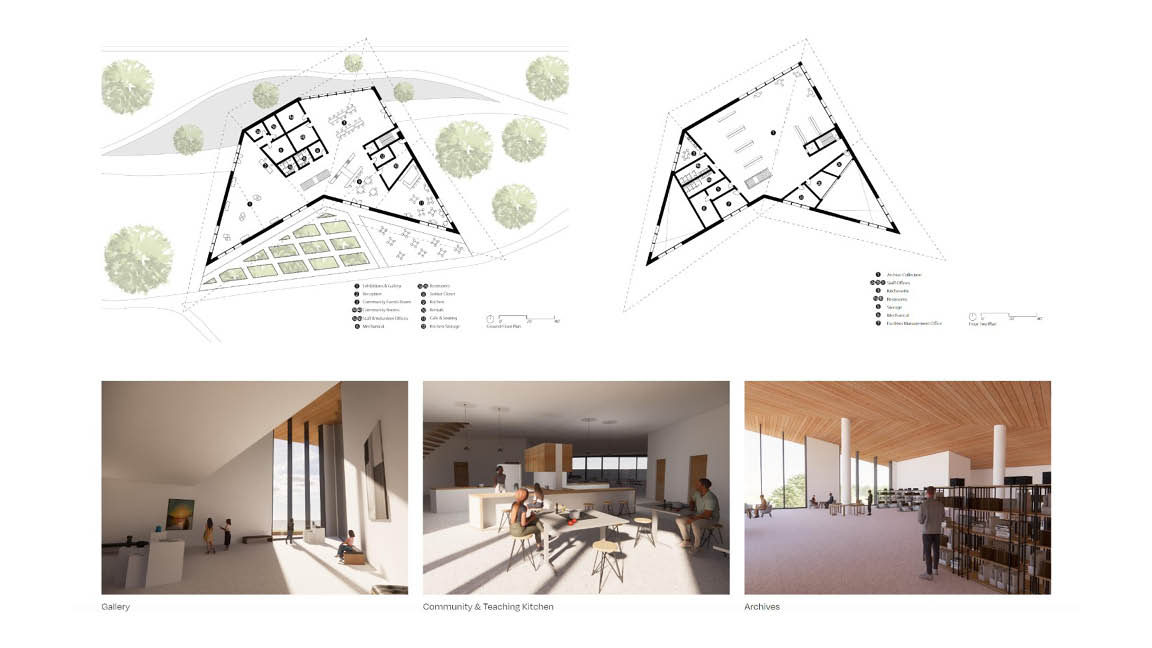 Jordyn Knox
"The portfolio represents a wide range of variety of projects for a 3rd year student. Good job!!"

"The social media designs being included is a nice touch and shows quality graphic design."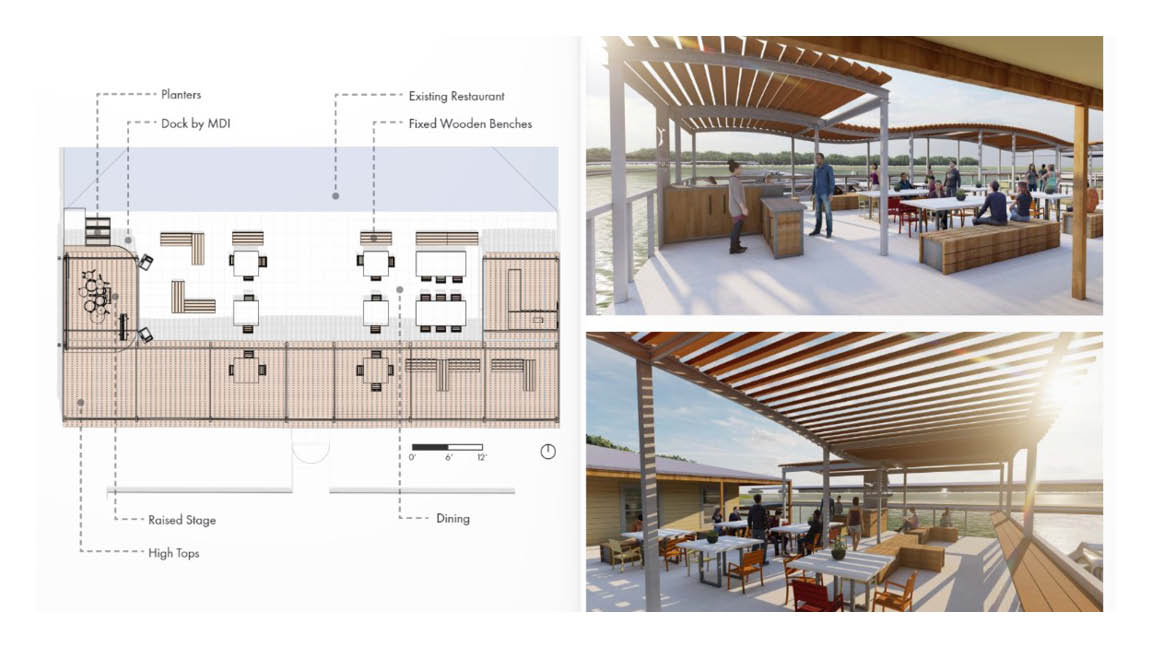 Ryan Haight
"The range of projects shows comprehensive educational career, I especially like the inclusion of the last project with the shop drawings."

"Overall, this is a very impressive portfolio. It's consistent and has a great range of projects."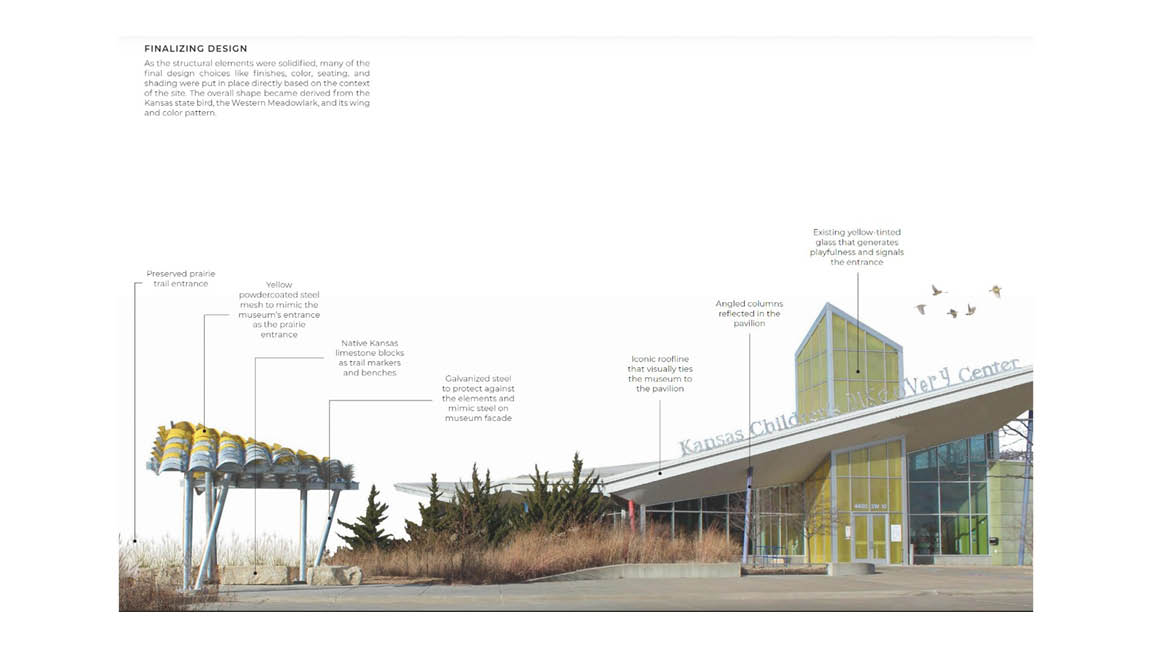 Hanna Hissa
"Clean, easy to read, uncluttered. Every summary and introduction to a project was concise and effective."

"There is a nice level of attention in the layout, white space, and storytelling of the portfolio that reads very well. "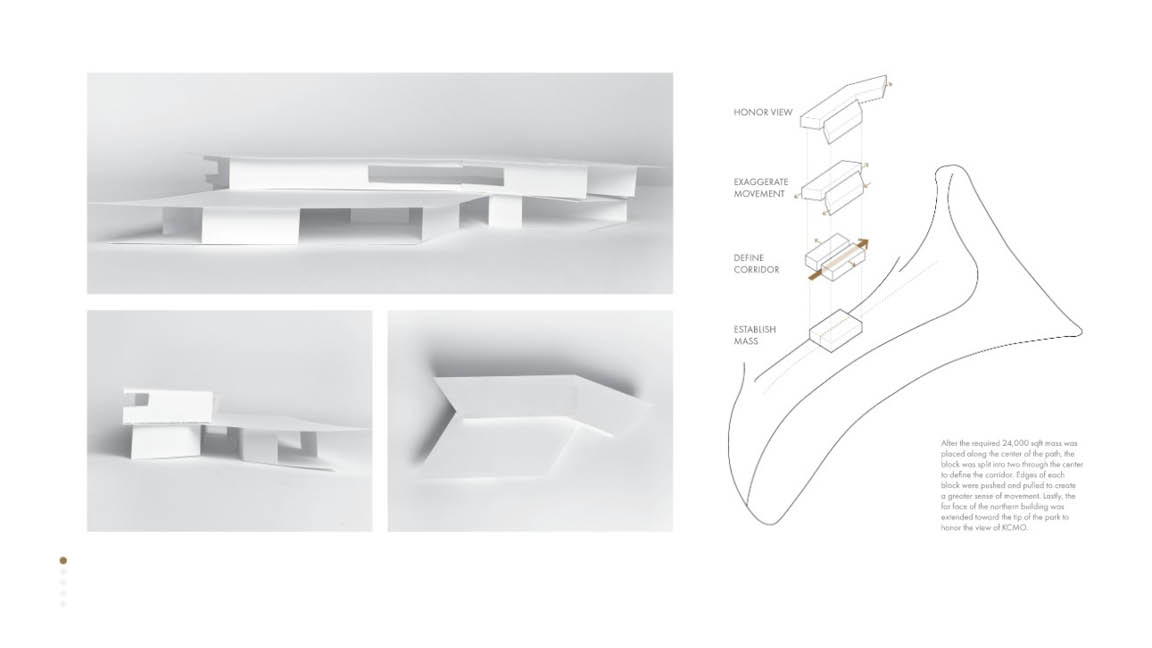 Emily Schrumpf
"Exceptional portfolio for any student. Having this level of quality in your third year sets a high bar. These are interesting works presented in interesting ways."

"There is a great balance of following an overall layout and grid while still maintaining enough flexibility to break it in thoughtful locations."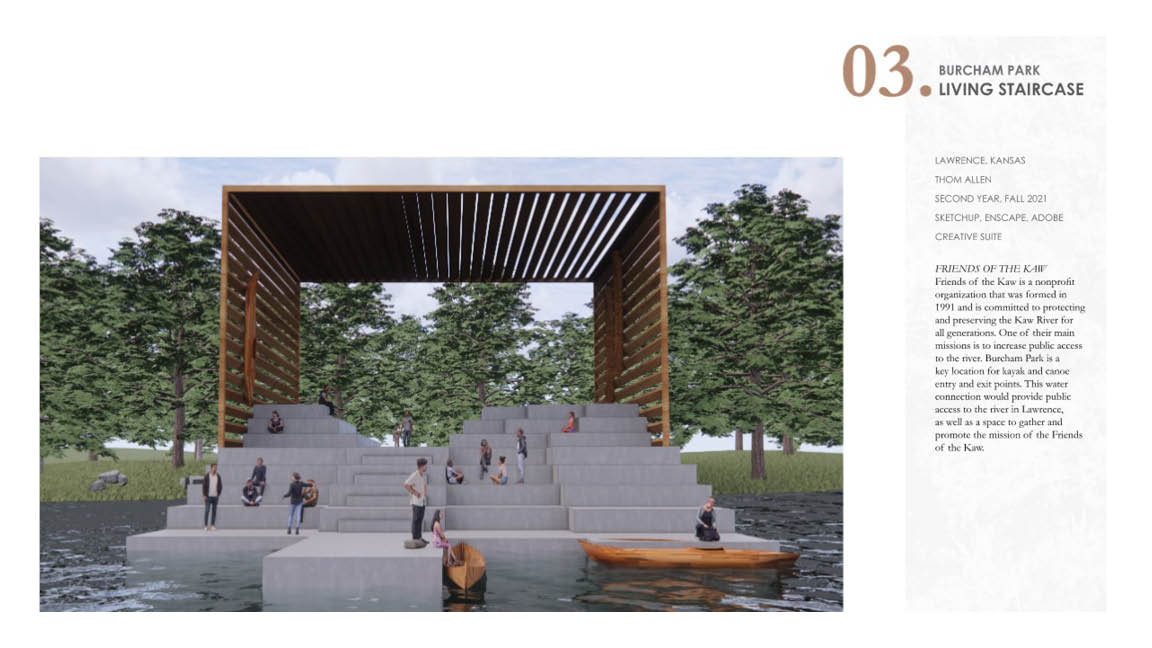 Meaghan Booth
"Overall a very clean and clear portfolio. Easy to understand each project type."

"Thoughtfulness is evident in the overall consistency in the portfolio design. Attention to whole package is great."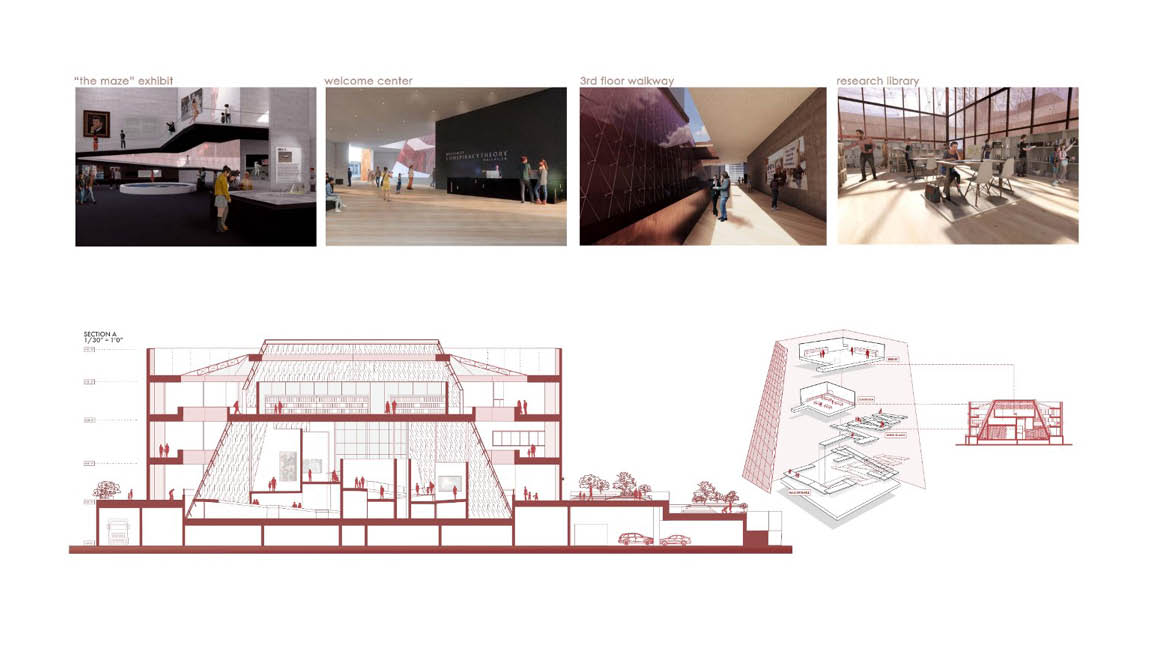 Jasmine Nguyen
"You have an excellent portfolio! Especially for only being a third year student. It seems to be a reflection of you and your personality which is good!"

"The layout and color choices were pleasing to the eye. I especially value text that tells the story, but isn't overwhelming."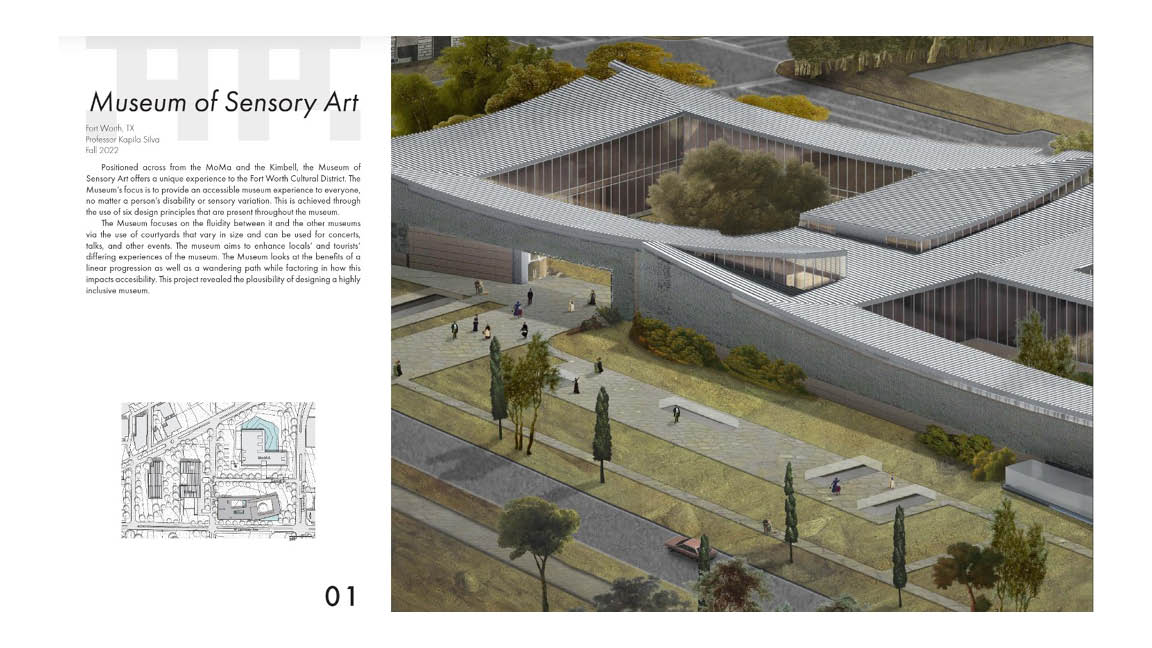 Isaac Decker
"Great to see the range of projects and the different types of media to express the projects."

"Nice mix of refined drawings mixed with sketches and copy to tell the story of your projects. Narratives and sketches are rich."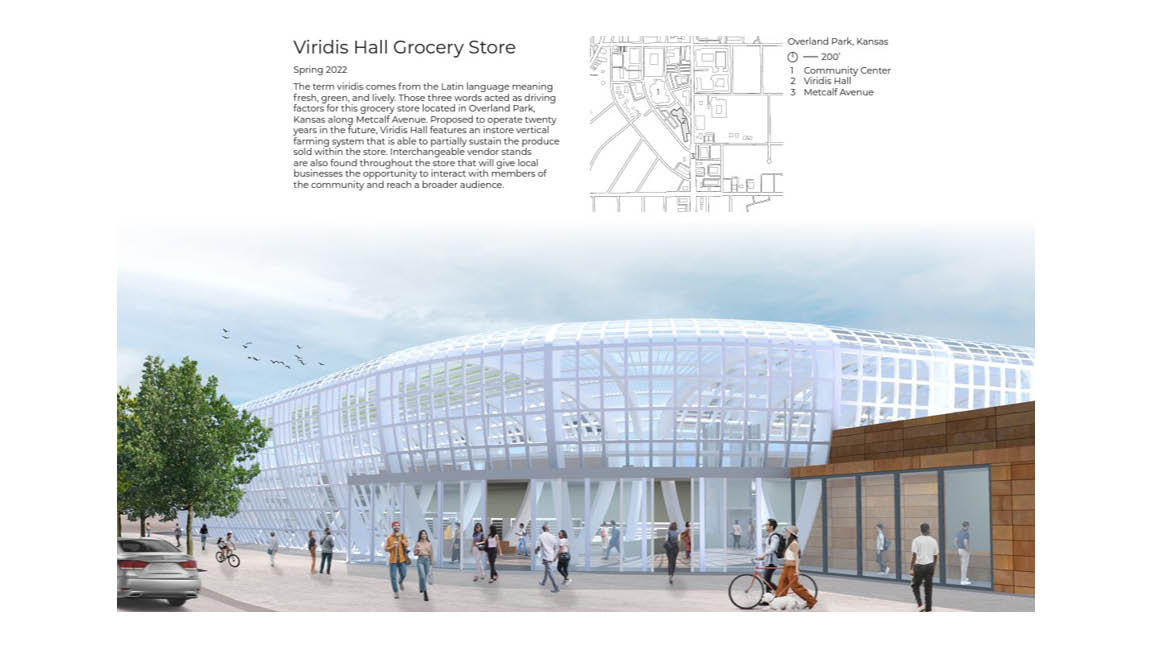 David Tauser
"Outstanding range of work — interesting projects, good exploration in digital and physical models, clear graphics and diagrams. Hard to do better than that."

"The story behind the Viridis Grocery and Pollinator Pavilion were both excellent."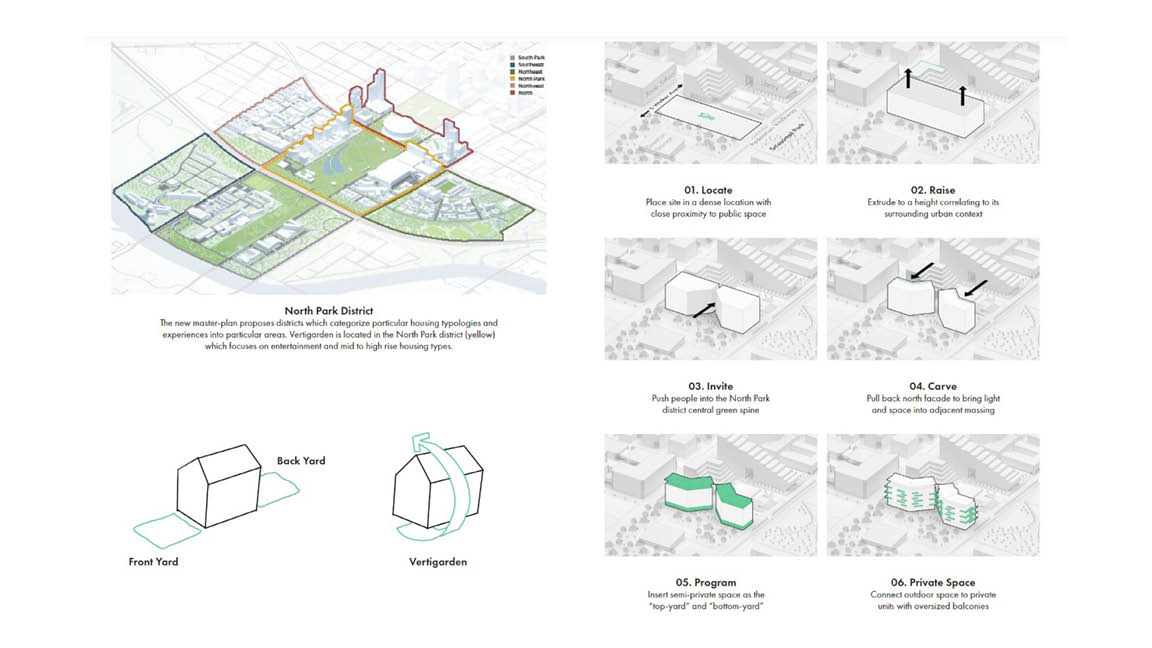 Jackson Bontty
"He has a good mix of drawing types, including sketches, diagrams, axons, plans, sections, and renderings which helps the reader get a full understanding of each project and the story behind it."

"His style is cohesive across all projects so you can tell that each one belongs in the portfolio and came from the same author."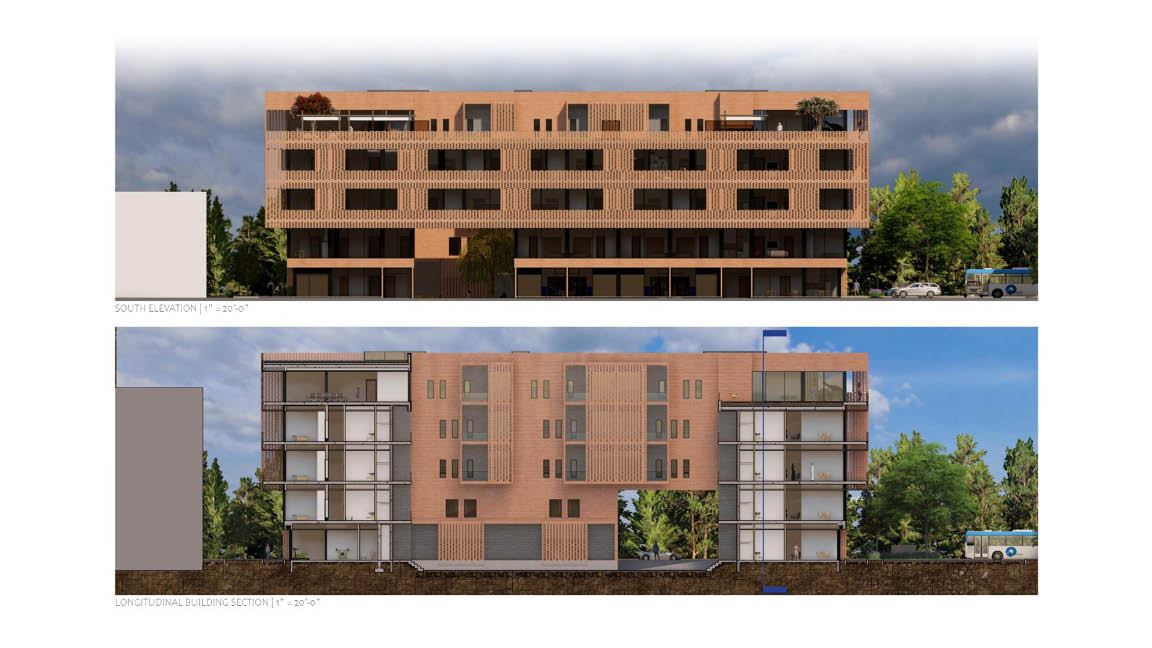 Liz Stone
"Great organization, graphics, diagrams and renders."

"Very clean organization and fun portfolio."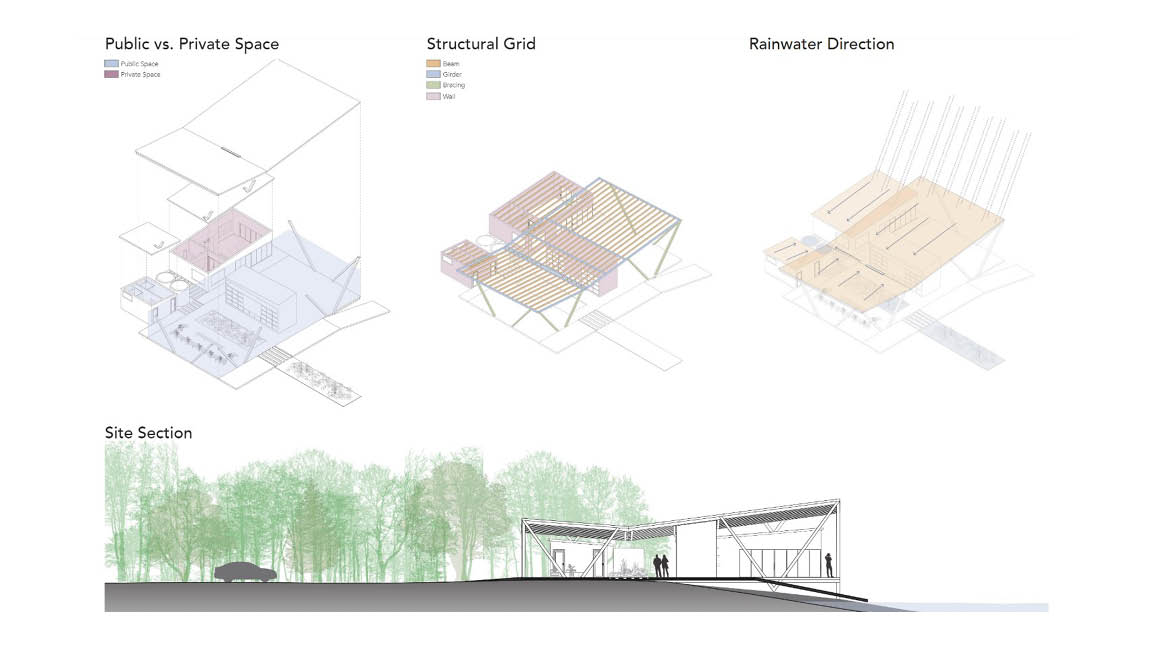 Nadia Al-Ani
"I like that Nadia has included design processes and diagrammatic vignettes to tell the story of each project."

"Nice mix of project work and personal interests. It's always great to see what makes someone tick outside of the studio."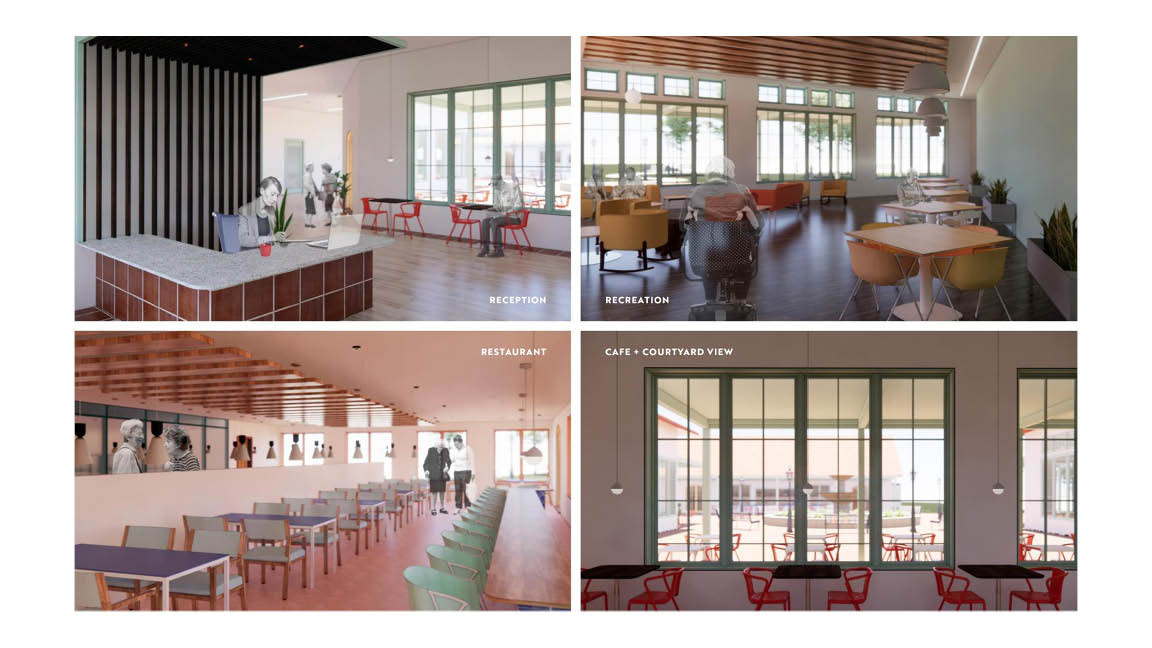 Sam Church
"Good design analysis and approach to the projects is creative."

"Great work! I enjoyed seeing your portfolio and how your design thinking has developed over time."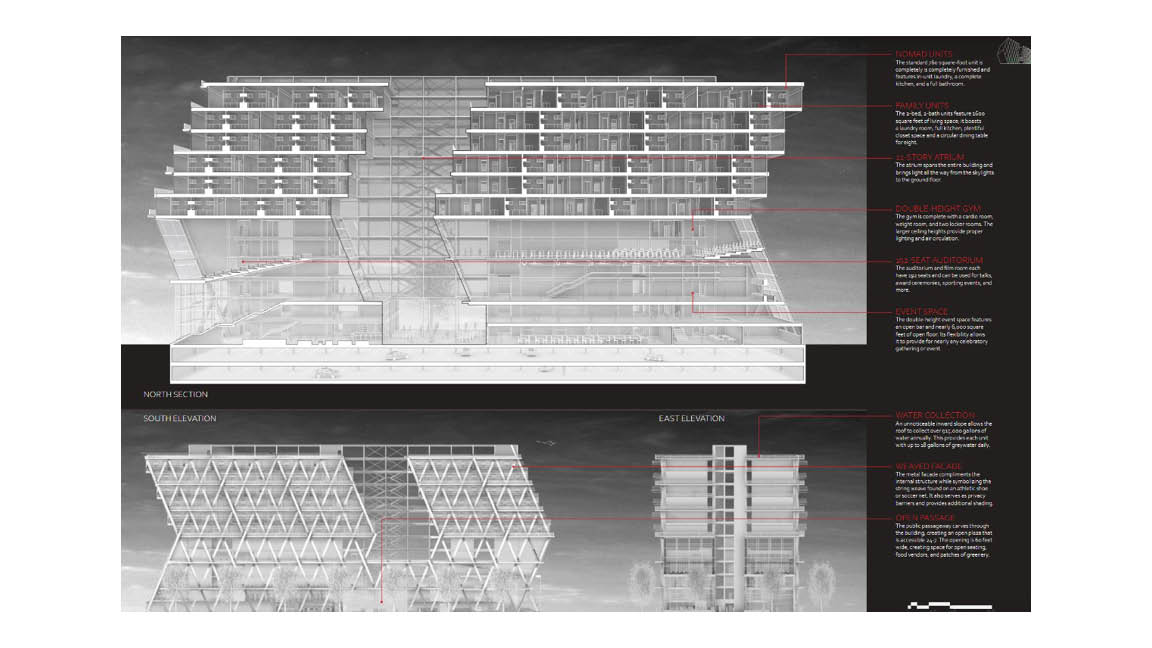 Kyle Gilboy
"Excellent legibility of projects and text throughout. Real GRAPHIC consistency in your images and diagrams, too. All these projects came from the same hand and gave me a clear sense of your point of view and style."

"Wow! Overall this was a great portfolio. All the images were well done, the mapping he created throughout was a fantastic tie in. And I loved that he even made the portfolio live where you can jump to certain sections. So far this was the first student portfolio I have seen that used this feature."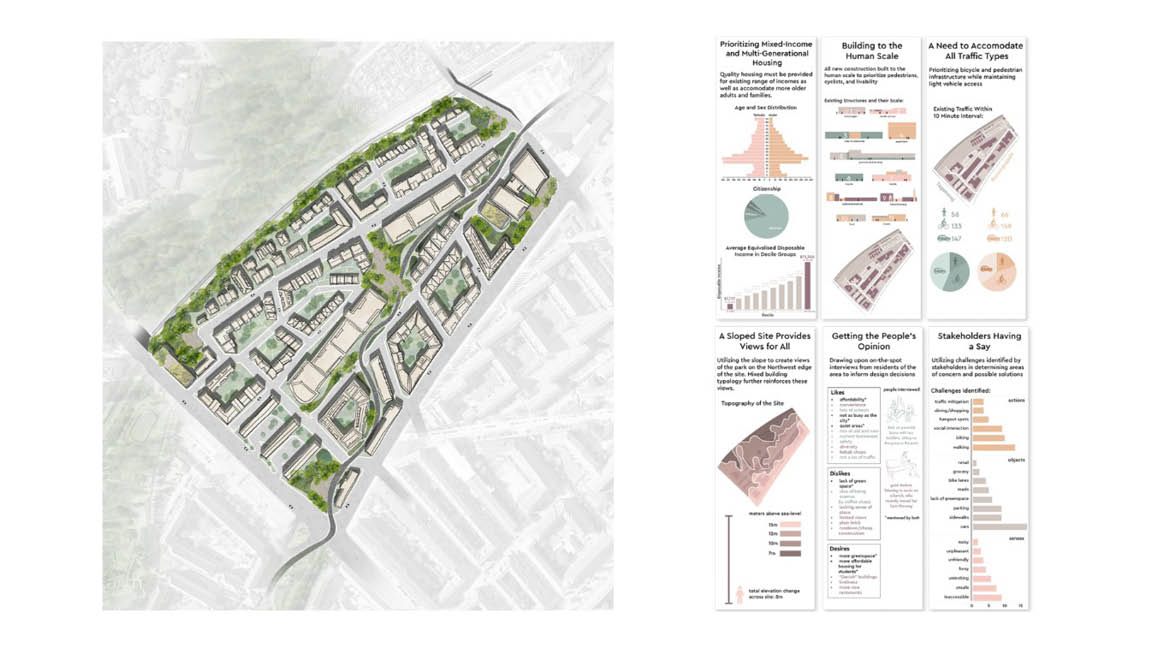 Morgan Siemers
"Very impressive breadth of experience. Awesome range of projects from design-build to graphic design."

"I really like your sense of color and vibrancy exhibited throughout. Such clear and concise storiesare greatly appreciated."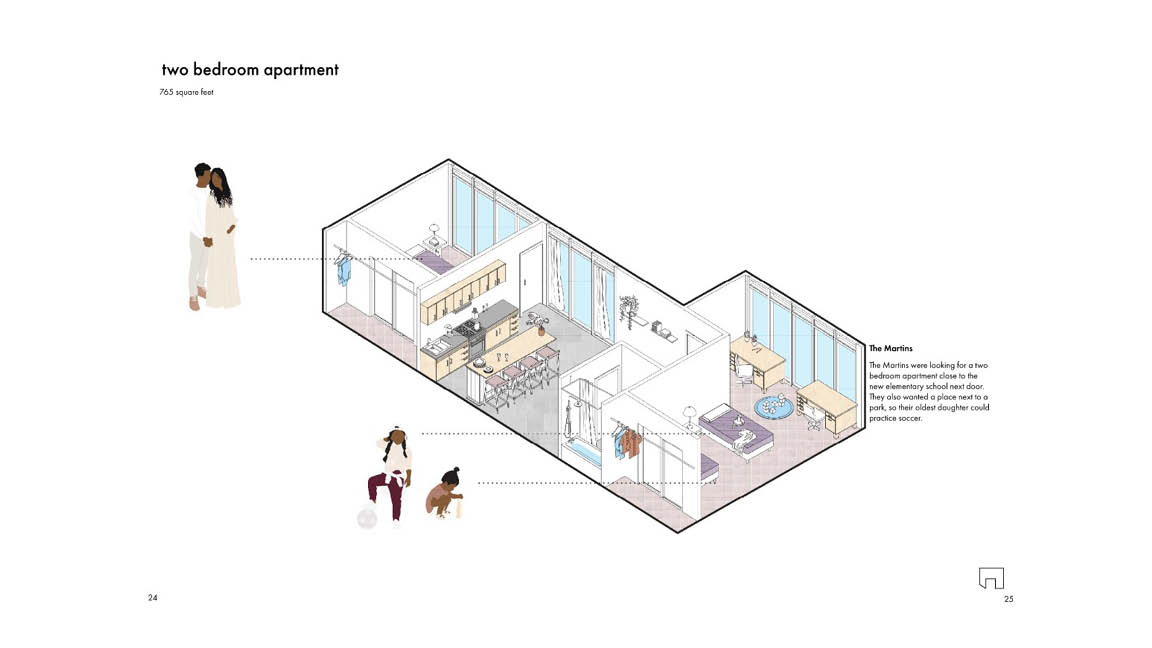 Emily Almloff
"Shows a lot of care and passion for what you're doing."

"Your portfolio is experiential in a way and I think that helps set you apart."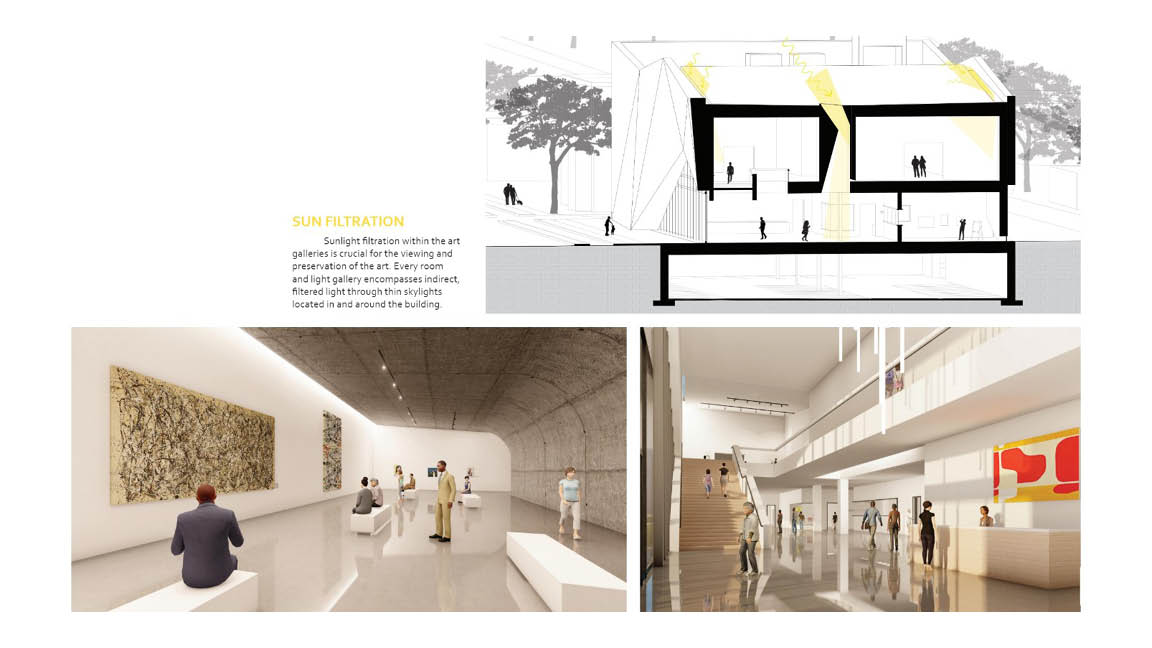 Jenna Bracaglia
"Overall, this portfolio has a variety of scaled projects, which highlights the students skill set and growth semester by semester."

"Good representation in all forms of documentation, and you can see the layering / post-processing effort in the imagery shown."
Kimberly Coulon
"Very good visuals from diagramming to renderings. Visually very easy to understand the stories behind the projects."

"The work is really well refined and very clearly articulated. Diagrams, rendered site plans, etc. all share a consistent style."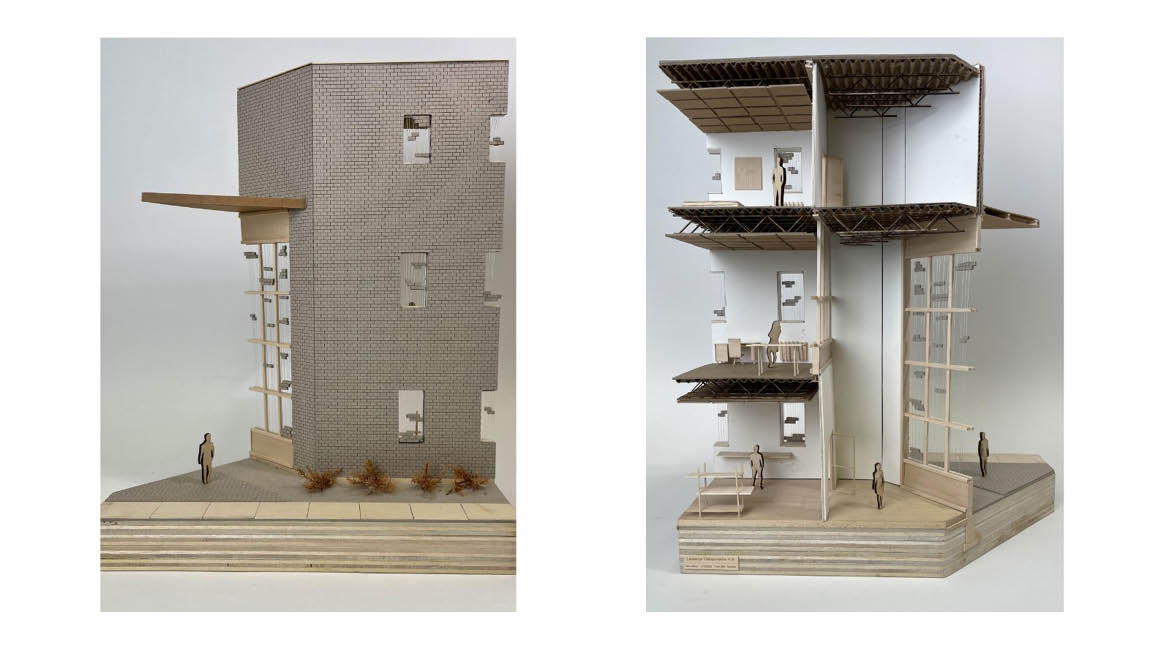 Alex Asbury
"I felt that the portfolio was such a good package. It was as if the student was selling me multiple buildings that some how tied together."

"Great range of projects—from master plan to construction details — nice work."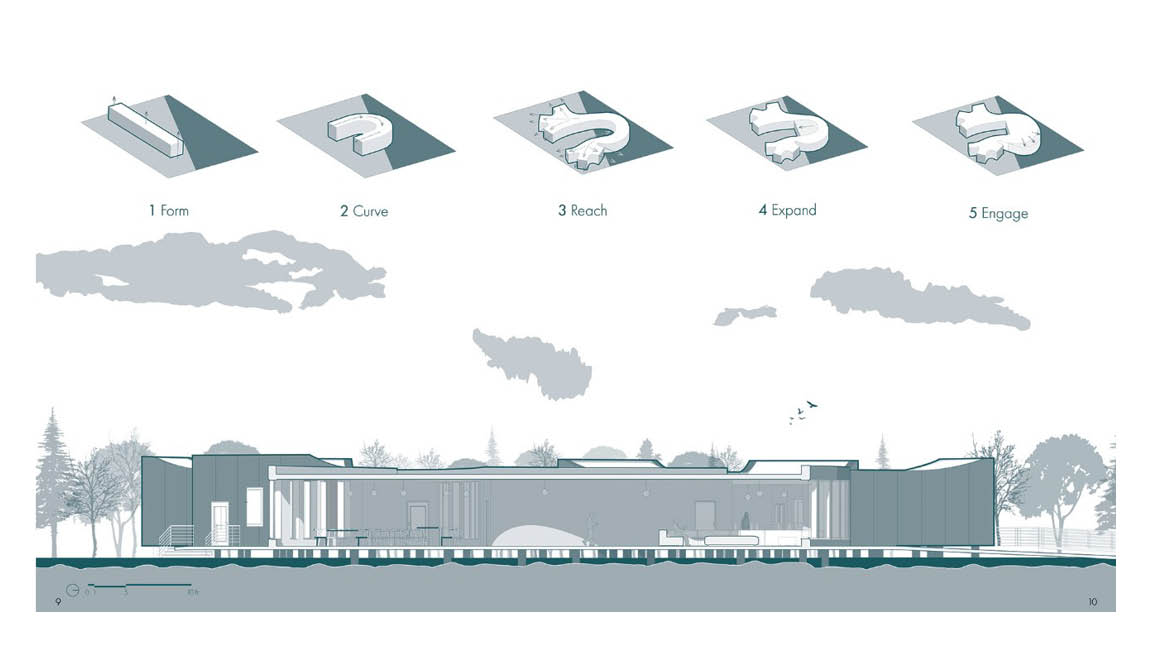 Sarah Boyle
"Good organization, composition, use of negative space, and just enough variety in representation and color/layout to keep the reader interested."

"Very strong narrative elements that provide clear conceptual underpinnings for each project."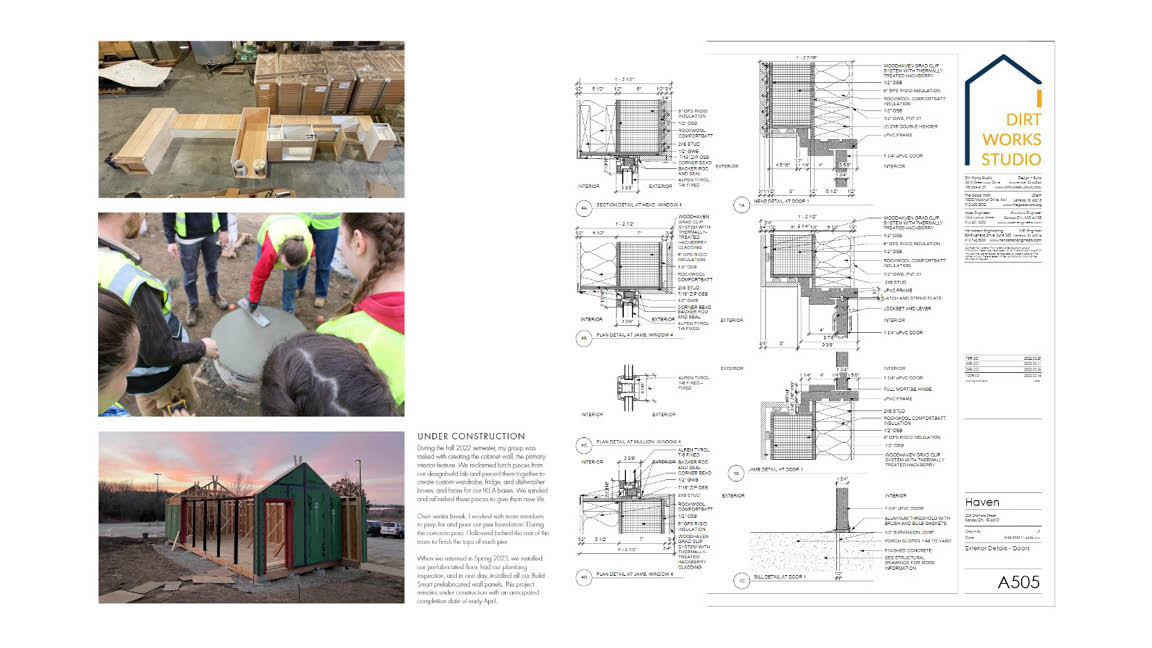 Liz Fraka
"Overall very nicely done portfolio. The formatting is consistent throughout but not too repetitive, and the projects shown show a clear evolution of design skillset and strengths at a variety of stages of the design process."

"Your ability to get text, images, diagrams and drawings to work together so harmoniously is great."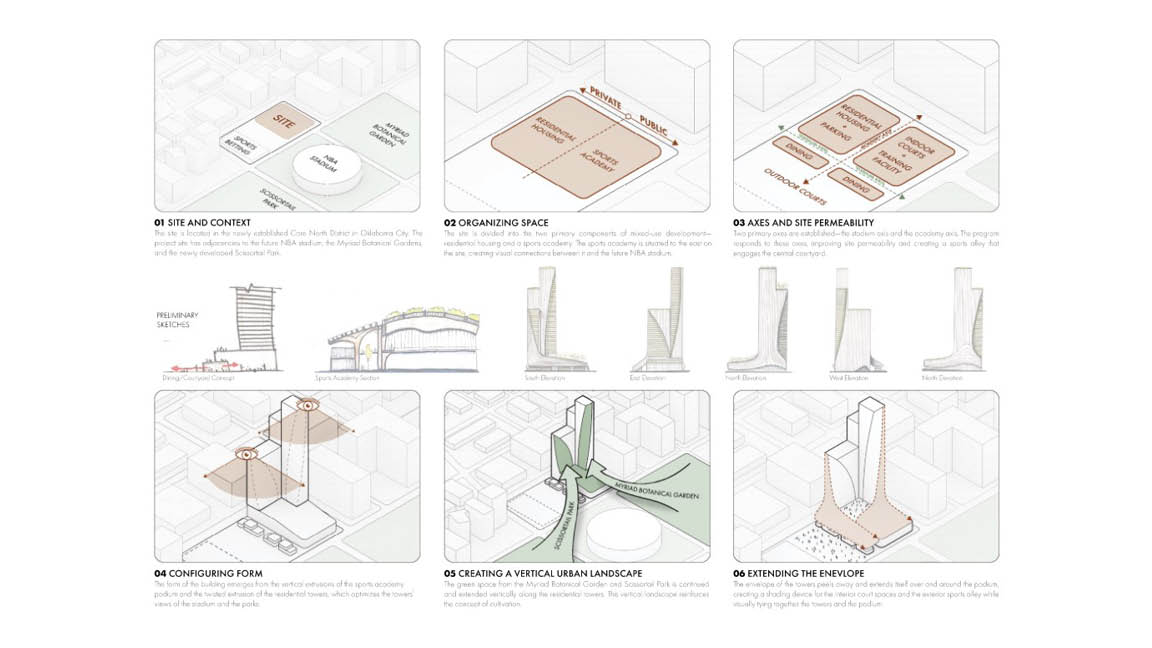 Alex Lamoureux
"The projects show good design and tool skills."

"The portfolio is extremely well thought out, very well composed and compelling."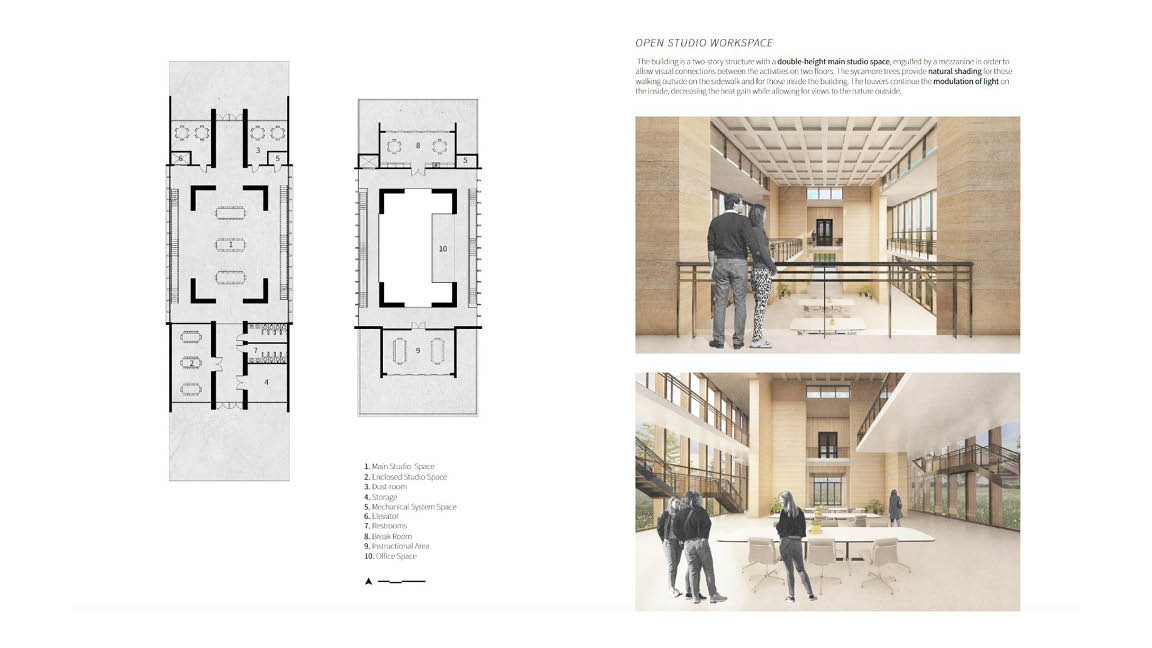 Madison Beck
"The variety in her projects including some of her work in the furniture/locker design really helps me get an understanding of her as a complete designer."

"Feels like a single hand did the overall layout. We typically have just a few minutes to review portfolios. This one would rise to the top."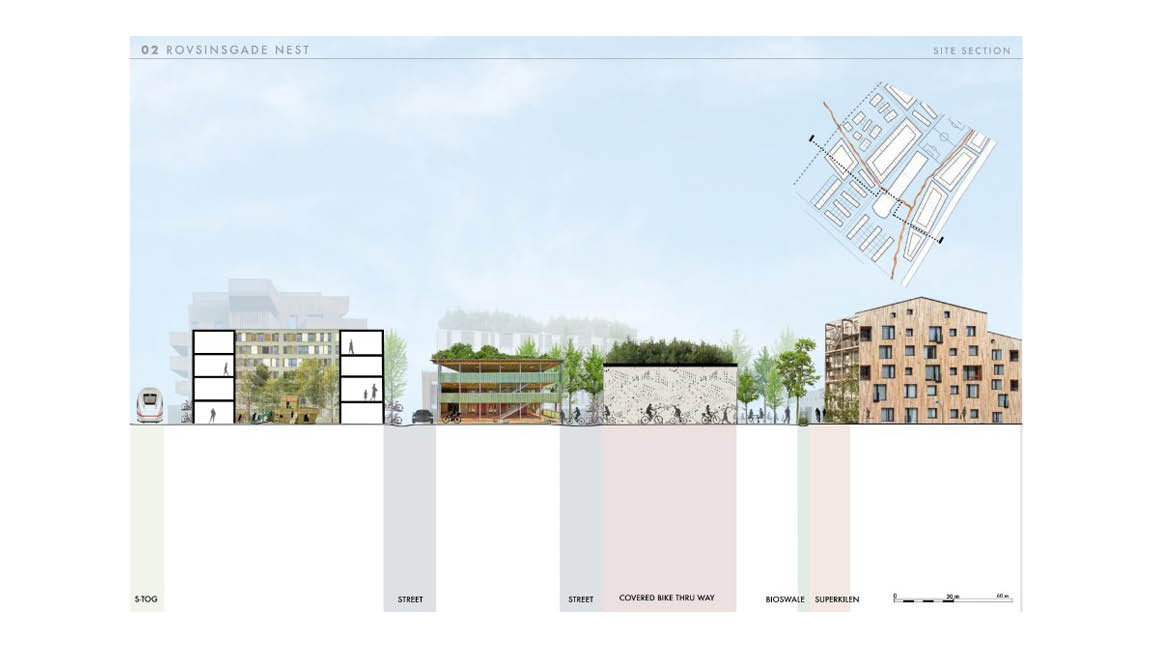 Jodi Gore
"The layout is spot on, that skill is something very beneficial for anyone that is putting together presentations for clients. One of the most consistent laid out portfolios I've seen."

"There's a lot of interesting projects! Good range of projects of differing types and scales. Great inclusion of personal work."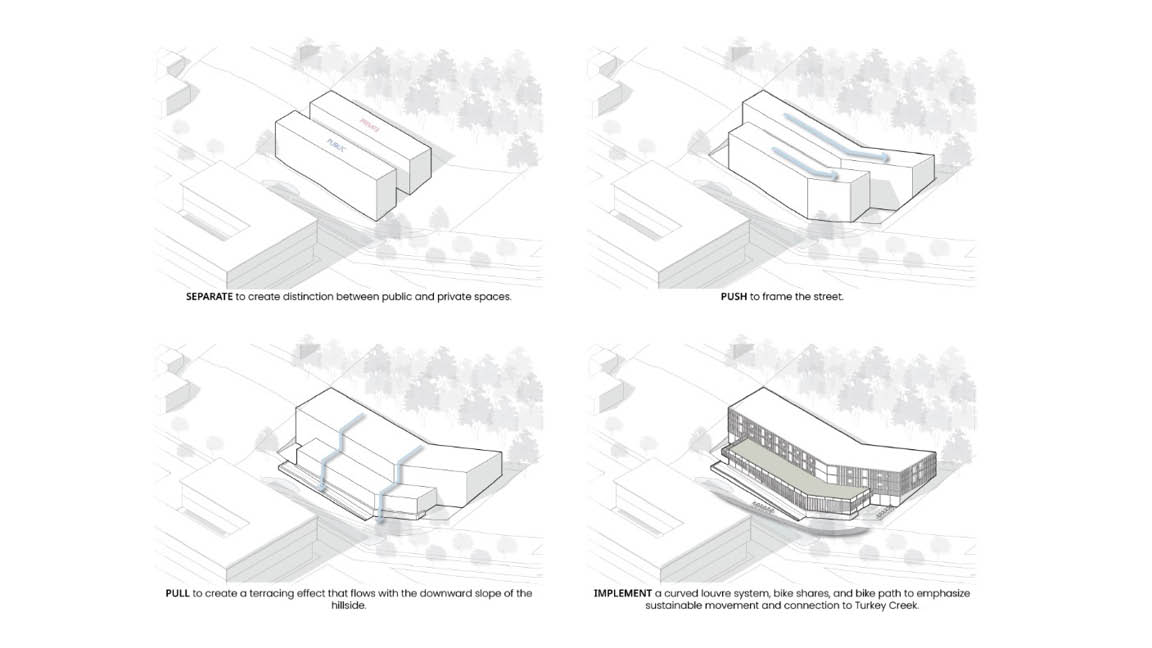 Abby Kahrhoff
"Rich and concise stories. Really good story approach. I'd hire you in a minute."

"Nice layout. I think you did a really good job with this, better than most I've seen in this review."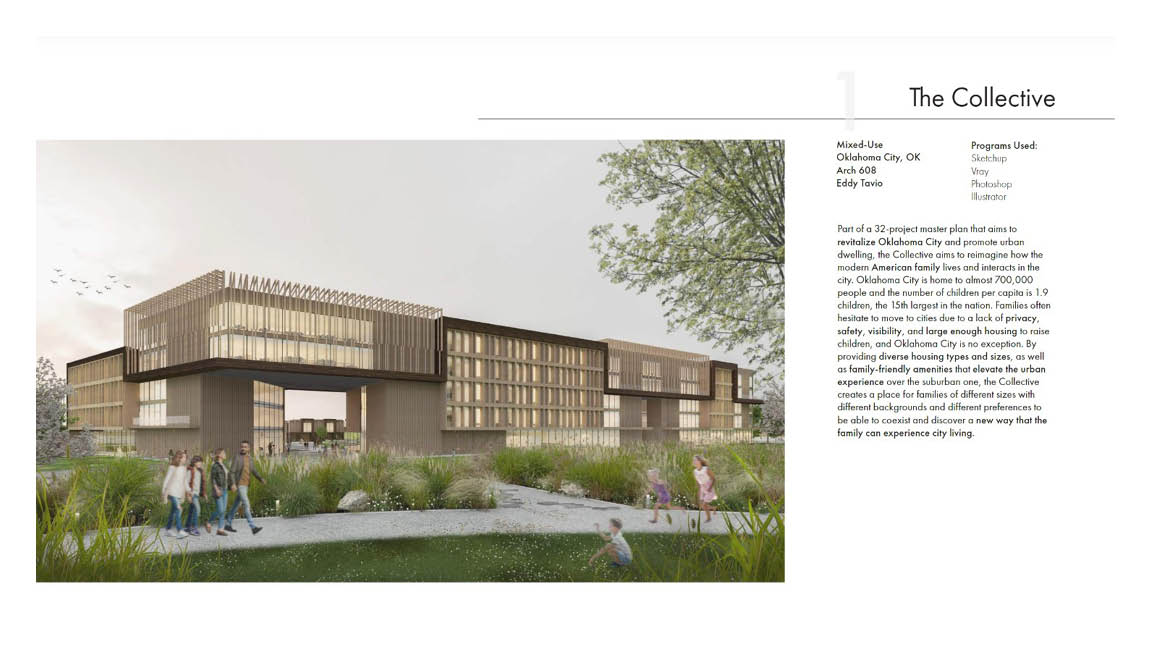 Madison Schaefer
"Great range of projects, from multi-family residential to furniture to grasshopper investigations. Very broad experience!"

"The choice and distribution of graphics and text are fantastic and make reading the work quite easy. There is so much detail shown in a very concise presentation."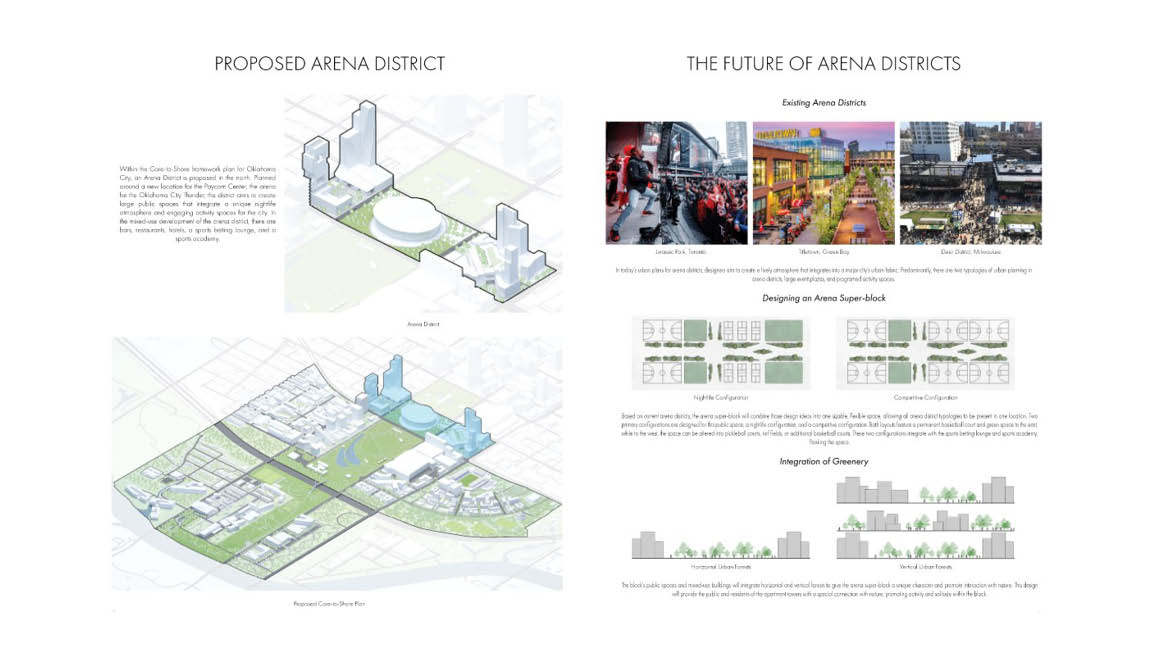 Ethan Overland
"The portfolio from start to finish told a story. The reflection of the history of the place and its impact on the project was strong."

"Showing analysis followed by integration into your building and process is very successful. Layout is well done — clean, simple, easy to read."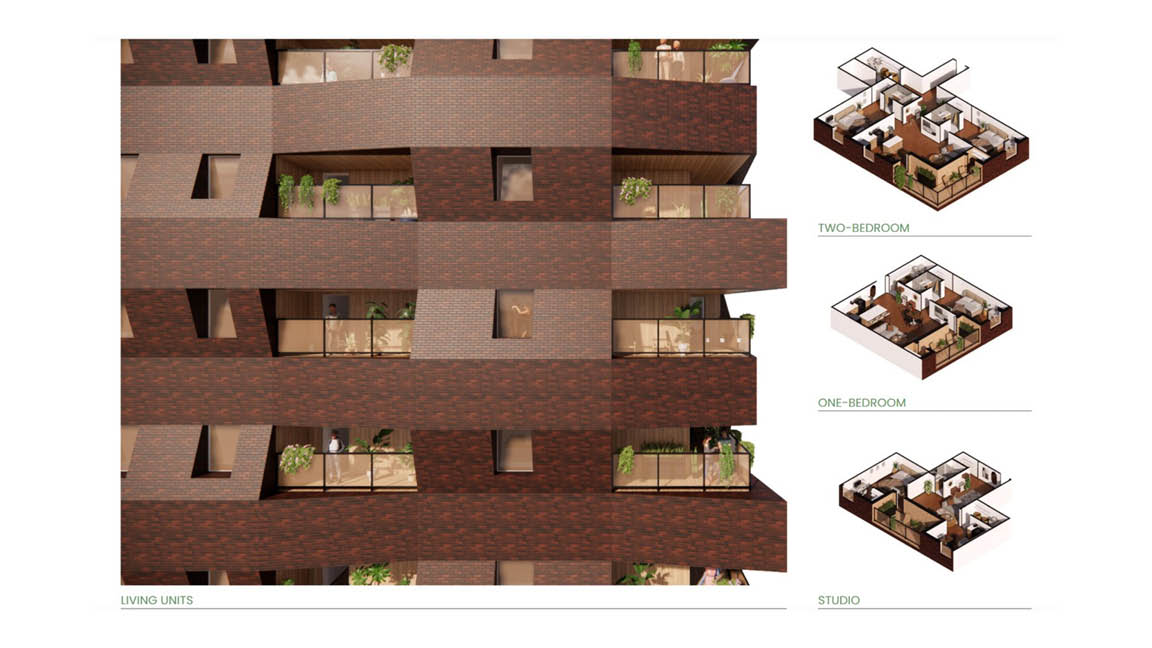 Julia Larkin
"The quality of the diagrams, plans and renderings is very nice — the parti diagrams and the illustration works. Well done!"

"I love the last section where the student showcases their own craft and talent. This tells a lot about how passionate the student is."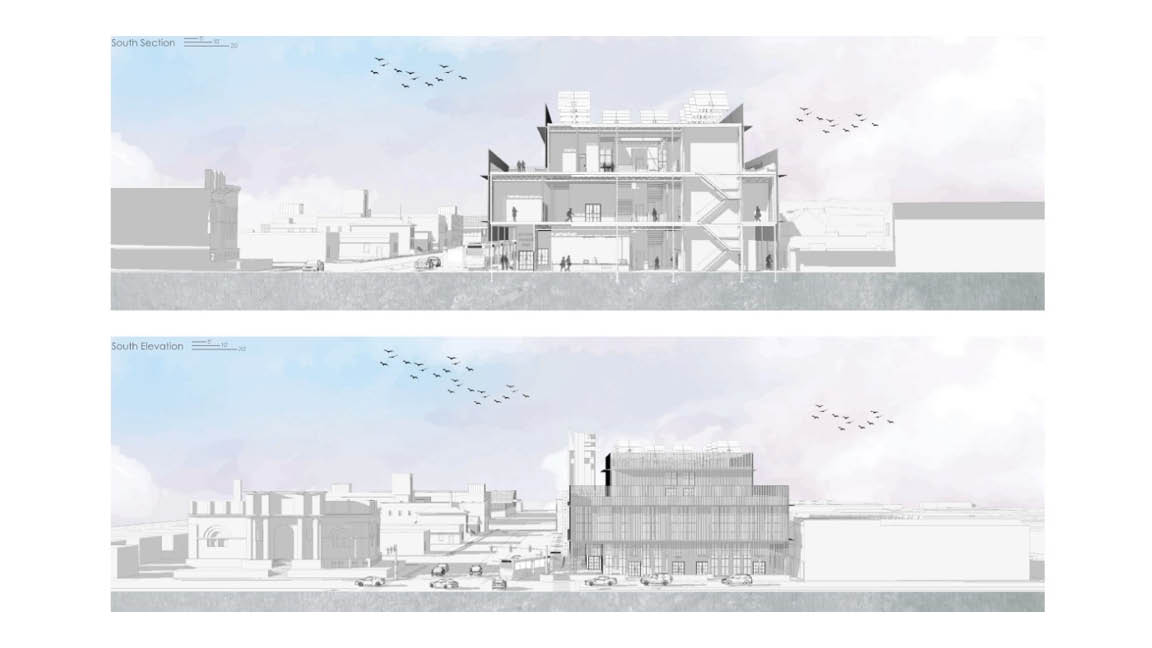 Marcus Ross
"Good selection of projects and can see clear development of skills and knowledge, including design, process, and graphics."

"Strong use of images and narrative to explain the evolution of the design. Nice range of projects and development is well illustrated."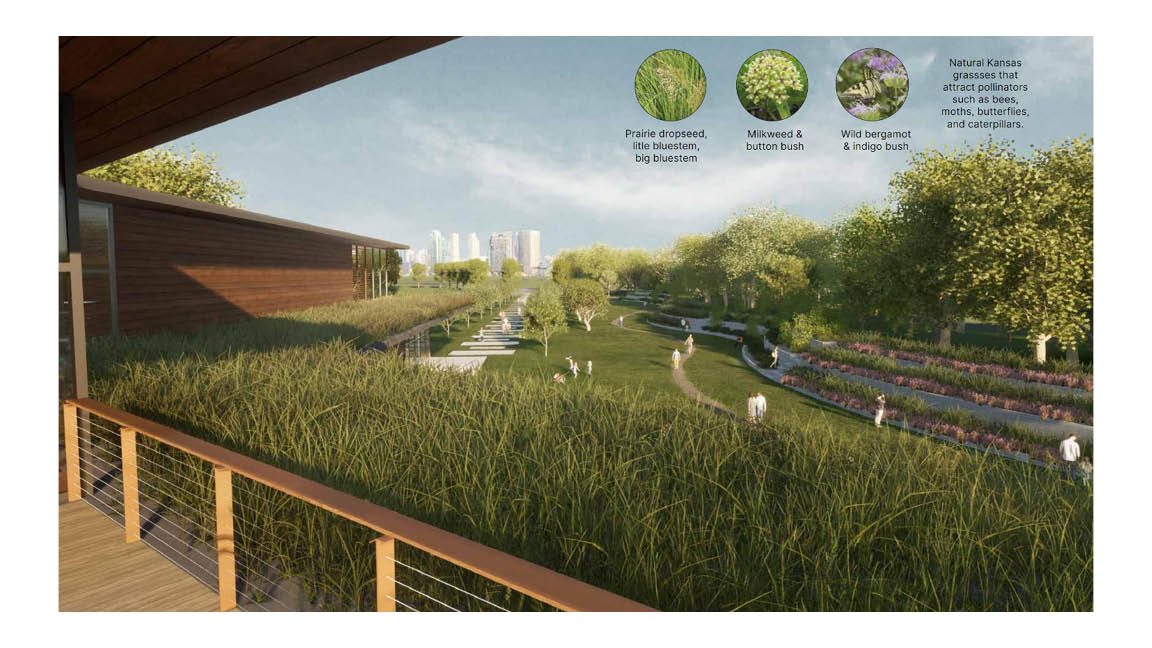 Mikala Liley
"The inclusion of progress drawings is a nice touch, diagrams are concise and clean, and there is an intentional color palette it seems."

"Kaw Point is thoughtful, well composed and developed. Engagement with context is unique and exciting."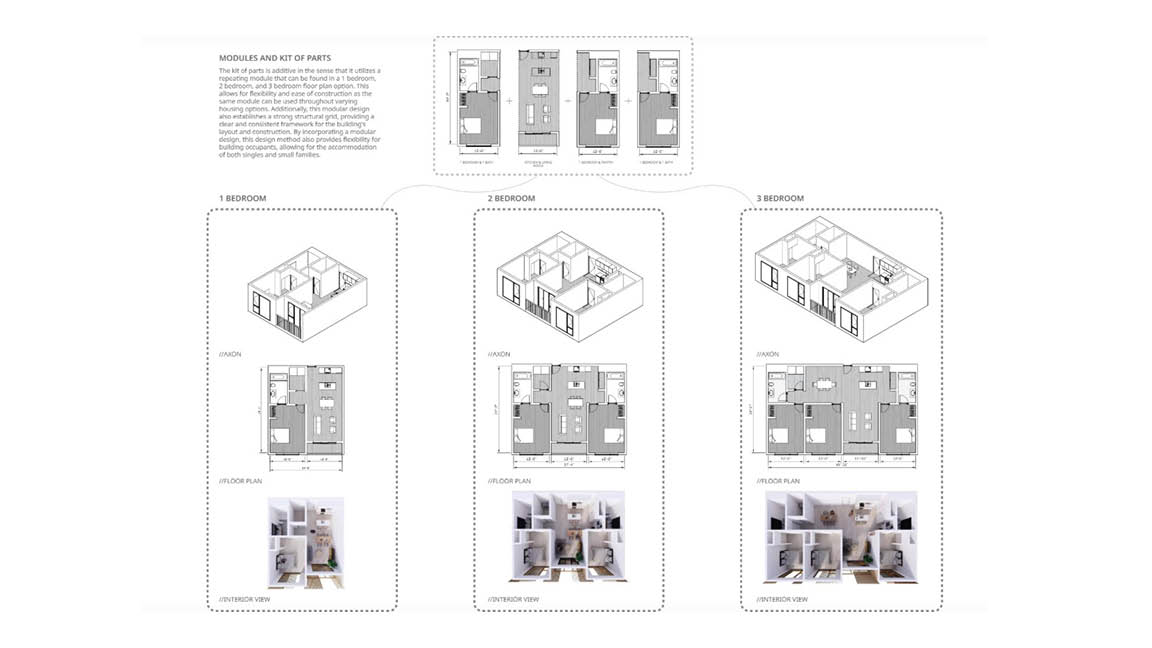 Alex Martin
"Stunning work, Alex! Love the range of projects and experimentation with graphics - keep up the great work!"

"Very strong graphic design. A pleasure to flip through the portfolio. Great storytelling."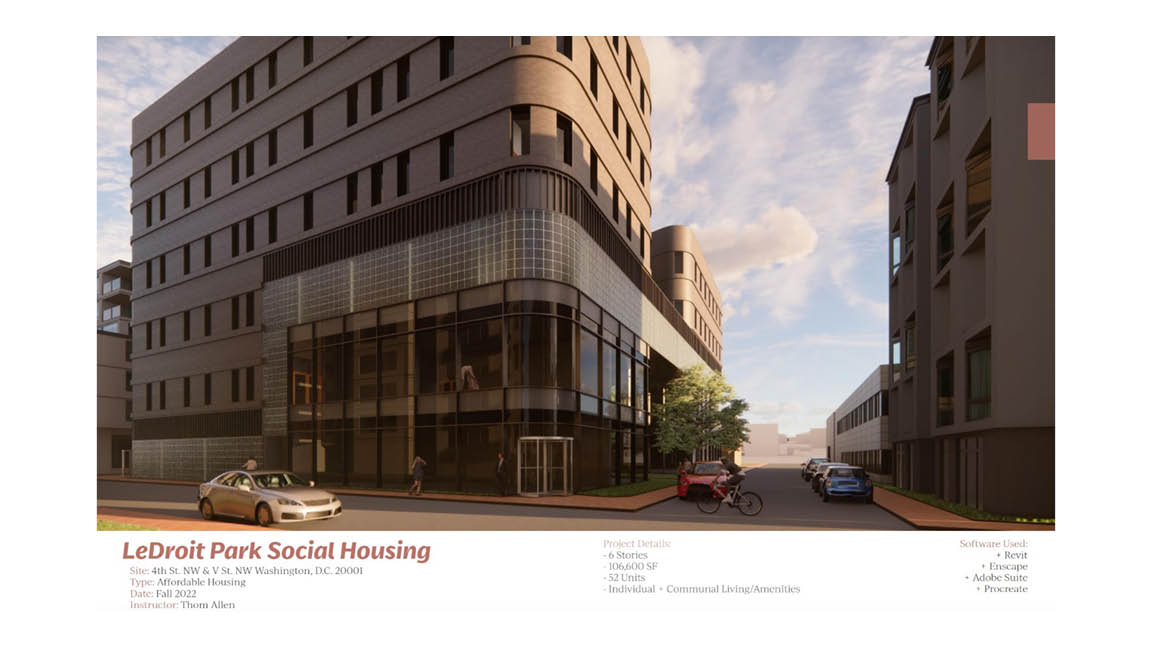 Madison Parr
"There is a lot of good content here. The diagrams are great and relevant, and the crisp elevations are very thoughtful and engaging."

"I think your layout is nice, visually pleasing and well organized."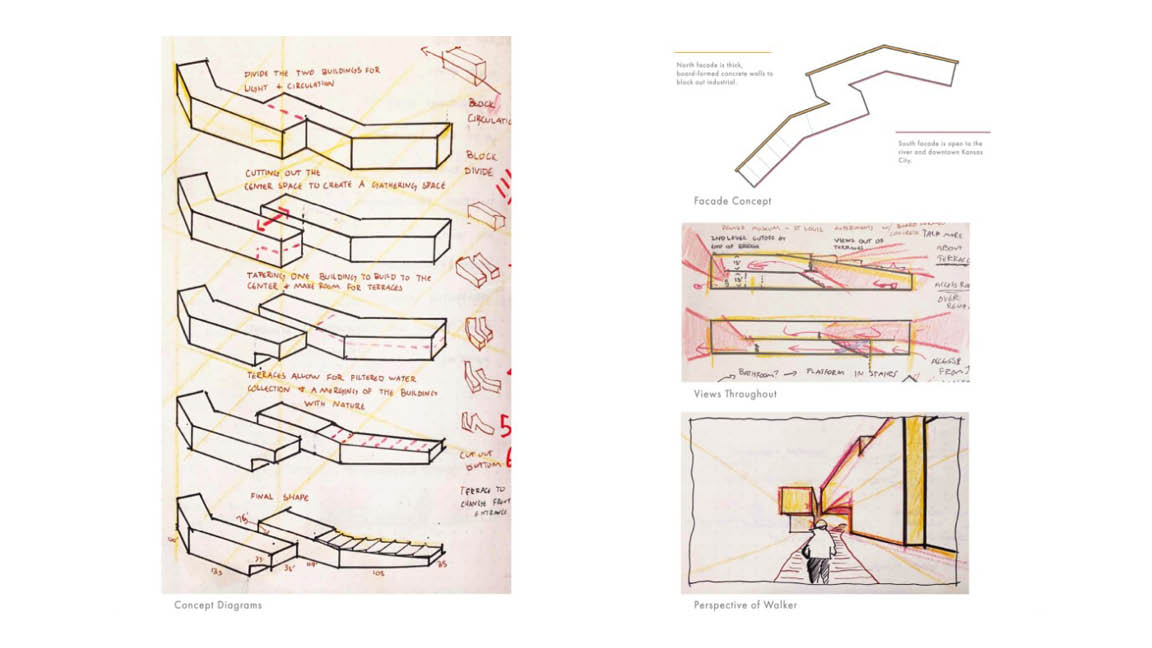 Brooks Quinby
"Great range from small scale to large scale and presented projects from all years of education."

"Overall, the graphics are very clean and consistent. Employers love seeing diagrams and sketches so just make sure to keep including those."