Andrea Herstowski
---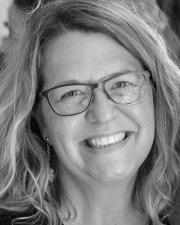 Associate Dean of Administration
Associate Professor, Visual Communication Design
Contact Info
Chalmers Hall, Rm. 353
Lawrence

---
Biography
—
Andrea Herstowski received a B.F.A. in Design, Visual Communication at the University of Kansas in 1991. Wanting to escape the open range of Kansas, she trusted that her KU education gave her what she need to be a junior designer in San Francisco, CA. She quickly found freelance work and worked steadily for two years on large and small projects with Landor Associates, Esprit Corps, Thinking Hat, and Meta Design.
After two years of fog filled days, the call to graduate school had to be answered. Andrea was accepted into both the Jan Van Eyke Academy in Maastricht, Netherlands and the Schule fur Gestaltung in Basel, Switzerland. Such a decision needed time, after 8 months of Paris living she had her decision. It was clear she must learn from the typographic masters at the Schule fur Gestaltung. While there she spent most of her days in the type shop working with Wolfgang Weingart. In 1995, she received her equivalent of an M.F.A. For the next 3 years she worked for xplicit GmbH and split her time between Frankfort and Berlin, Germany. Her days and nights were filled designing materials for banks, furniture companies, software companies and the leading techno magazine in the country.
The pull back to SF to work crazy hours and never seeing a blue sky was strong. Andrea moved back to SF to start Factor Design Inc with her Meta Design colleague Jeff Zwerner. Factor was a success working on large branding, packaging and websites for companies such as Sun Microsystems, Quicken Books, Symantec and Apple Computers. In the evenings she taught design at the Academy of Art in San Francisco. Her last year in SF was spent commuting down to sunny Cupertino to work with Apple on typeface design/standards and packaging.
While teaching at the Academy and working with Apple were both a dream come true, it was time to move back to Kansas. Since 2002, Andrea Herstowski has been at the University of Kansas. Over the past 14 years she has been promoted, tenured, and recognized for excellence in teaching. She loves teaching sophomores typography and helping the seniors prepare their portfolios. She continues to believe that the KU education prepares the student to be able to move anywhere in the country and get a job. But she uses the portfolio class to make sure! For the last 4 years, in addition to teaching she serves as Chair of the Department of Design which holds the majors in Visual Communication Design, Industrial Design, Photo Media, Illustration & Animation and Environmental Design.
Andrea owes her successes to her parents strong personalities and professionalism, and to her professors, mentors, art directors, colleagues and friends: Matthew Gaynor, Lois Greene, Douglas Sellers, Bernie Wooster, Annette Stenner, Paul Rand, Richard Sapper, Armin Hofmann, Lucille Tenazas, Jana Anderson, Erik Scott, Terry Irwin, Erik Spiekerman, Maria Calderon, Wolfgang Weingart, Mary Scott, Thomas Nagel, Alexander Branczyk, Stefan Hauser, Jeff Zwerner, Gabe Campodonico, Rick Cusick, Patrick Dooley, Jeremy Shellhorn, Tad Carpenter, Lance Rake, Pam Dorr, John Bielenberg. And all her students and alumni that keep her on her toes, inspired and only sometimes disappointed.
Education
—
MFA, Schule fur Gestaltung in Basel, Switzerland, 1995