Gregory Thomas
---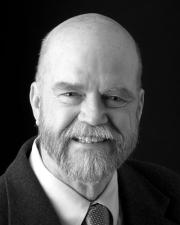 Director of Center for Design Research
Professor, Visual Communication Design
Contact Info
Chamney Residence
Lawrence

---
Biography
—
Professor Gregory Thomas came to came to KU as the Chair of the Design Department, School of Fine Arts in 2004 after a distinguished professional career as the principal of Gregory Thomas Associates (GTA) Los Angeles. Since 2009 he has served in a developmental capacity for the Dean of the School of Architecture, Design and Planning.
Formed more than 35 years ago, GTA was a design studio specializing in strategic brand analysis, development and implementation. The award-winning company produced corporate identity programs, trademarks and icons for clients around the world. GTA served as creative consultant to clients such as CBS, IBM, TRW, The Federal Reserve Bank of San Francisco, Seagram's International, and to the countries and individual destinations of Australia, New Zealand and Austria.
Past projects completed by GTA include: The annual report and complete revision of the branding system for LAWA (Los Angeles World Airports); the branding and development of street hardware/wayfinding for the City of Alhambra, CA; The City of Los Angeles; The University of Southern California (USC); The University of California at Los Angeles (UCLA); and other programs for the cities of Durham NC, Astoria OR, Oshkosh WI,
Mr. Thomas was an Adjunct Professor at the School of Fine Arts and the Annenberg School for Communication at the University of Southern California and served as the Acting Chair of Graphic Design at Art Center College of Design in Pasadena for three years. Mr. Thomas is a graduate in design from the Kansas City Art Institute (BFA), California Institute of the Arts (MFA) and Yale University (MFA).
Gregory Thomas has written an in-depth study of symbol and logo development titled How to Design Logos, Symbols & Icons from Northlight Books. Considered an expert on Branding, Professor Thomas has taught the subject of icon and symbol design for over thirty years and is recognized internationally for his work in this area. In addition he has been on National Public Radio, featured on the national Food Network and as well as numerous lectures on the subject of trademark and symbol design.
Currently Professor Thomas is working with colleagues in Engineering on energy, sustainability and with specific focus in vehicular/transportation safety initiatives. Current research centers on integrating design in Health & Wellness initiatives, using design together with engineering on automobile dash & consoles, developing smart grid, electric vehicles and energy applications funded by the KU Transportation Research Institute. In addition to his research on Adaptive Information Displays, he is also working on the interconnectivity of the smart home and smart car. Professor Thomas' work is currently focused on the infusion of smart devices into the automobile. The convergence of new health technologies will enable diagnostics and patient treatment in rural parts of Kansas.
As director of the Center for Design Research (CDR) for the past six years, Professor Thomas has developed a three building complex and multidisciplinary collaborations. The CDR has done industry-sponsored projects for Bayer HealthCare, Ford Motors, and Sprint. He is one of the first recipients of the School of the Architecture, Design, & Planning's "Research Impact Award."
He is a member and/or honored as a University of Kansas-Senior Administrative Fellow, Phi Beta Delta-Alpha Pi Chapter Honor Society for Scholars, Advisory Board University of Kansas Hospital Cancer Center, KU Center for Research Board of Trustees, Lawrence Memorial Hospital Endowment Board, the IDSA (Industrial Design Society of America) and the SEGD (Society of Environmental Graphic Design).
Education
—
MBA, California Institute of the Arts, 1974
MFA, Yale University, 1972