Jeremy Shellhorn
---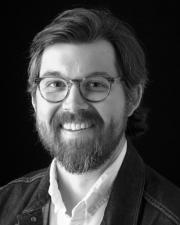 Professor, Visual Communication Design
Contact Info
Marvin Hall Rm. 224
Lawrence

---
Biography
—
Jeremy Shellhorn is an Associate Professor of Design at the University of Kansas. Prior to this appointment, Jeremy taught visual communication design at Herron School of Art and Design, Indiana University.

In 2012 he was awarded the Golden Apple award for excellence in teaching by The Dallas Society of Visual Communication. Recently, he was named the 2013 Byron Shutz award winner for teaching at KU. His design work, research and teaching has been recognized by the American Institute of Graphic Arts (AIGA), Fast Company, Kottke.org, University and College Designers Association (UCDA), Print Magazine, Graphic Design USA, the Ad Club of Kansas City, National Science Foundation, Wall Street Journal and the U.S. National Park Service.

Besides his applied design practice, his current research is in the areas of cognition & culture as they relate to design artifacts. Jeremy is particularly interested in exploring strategies for designing experiences that facilitate engagement, understanding and learning in the public space, using information design and motion design. "As a graphic designer I give meaningful visual form to content in a variety of media: on screen and in print, from very small hand held experiences to interactive 3D environments, from logos to books, from posters to websites. But what identifies me most uniquely as a designer with expertise in visual communication or graphic design is my ability to communicate specific messages to specific audiences through the thoughtful and artistic manipulation of that visual form: words and pictures, structures and systems. Simply put, as a designer, I create ways to turn existing situations into preferred ones; as an educator, I create connections between what students know and what they want to know; and as a graphic designer, I create ways to visually communicate ideas." Jeremy graduated from University of Kansas with a BFA degree (1999) in Graphic Design and from North Carolina State University, Raleigh with a Master of Graphic Design degree (2002).
Education
—
MGD, North Carolina State University, 2003