Khaled Ali Almazam
---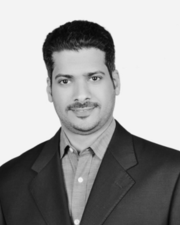 PhD Student, Architecture
Biography
—
Khaled Ali Almazam is a PhD student in the school of architecture at the University of Kansas; his research emphasizes on energy efficiency and solar energy performance. His dissertation will demonstrate the impact of utilizing adaptive smart materials on building facades to improve the performance of Building-integrated Photovoltaic (BIPV) systems. He received his B. Arch from Umm Al-Qura University and his M.S. Arch from the University of Arizona.  
Education
—
M.S. in Architecture, University of Arizona
B.Arch, Umm Al-Qura University, Saudi Arabia
Selected Publications
—
Sanguinetti, P., Humaidan, O., Almazam, K., & Colistra, J. (2019). Case Study: A 3D Printed Concrete Energy-Efficient Affordable Home: Presented at the 2019 Buildings XIV Conference, Clearwater Beach, Florida, December 9 - 12, 2019 
Sanguinetti, P., Almazam, K., Humaidan, O., & Colistra, J. (2019). Evaluating the Potential of High-Performance Concrete 3D-Printing for Zero Energy Homes: Presented at International Building Performance Simulation Association, Rome, Italy, September 2 - 4, 2019 
Almazam, K. (2017). Analyzing and Designing an Off-Grid Commercial Library Building at Najran University in the Hot Arid Climate of Najran, Saudi Arabia (Master thesis, The University of Arizona).