Lorena Muzel Gomes
---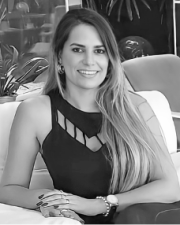 PhD Student, Architecture
Biography
—
Lorena Muzel Gomes is a Ph.D. student from The University of Kansas. She is a Brazilian architect that received her Bachelor's degree and Graduate Certificate from Filadelfia University Center. She has been practicing architecture for over a decade, as a certified architect in her country.
After working as an intern volunteer during her undergraduate time creating architectural projects of housing for free for low-income families she wrote an article on the subject of fast and affordable constructive methods for her undergraduate research. She intends to develop creative solutions and practices to integrate the concepts of sustainability with an equity and social justice approach to the planning of communities.
Lorena's research at the University of Kansas will be focused on affordable housing challenges, communities' resilience, sustainable practices, inclusivity policies, and climate and social justice. As a Latin-American woman, the challenges of the foreign population are a concern for her too. She wants to discuss policies, influence decisions, and projects for affordable housing, development planning, and inclusivity, especially for refugees and recent immigrants that face a vulnerable situation restarting their lives in a foreign country. Her long-term goal is helping to create communities that are environmentally and socially responsible.
She is currently pursuing a graduate Ph.D. at the University of Kansas School of Architecture and Design under the University Graduate Fellowship.
Education
—
B. Arch, Filadelfia University Center, Londrina, Brazil
Graduate Certificate of Architecture of Interiors, Filadelfia University Center, Londrina, Brazil
Selected Publications
—
Gomes, LM, The Use of Smart Furniture to Optimize Space in Small Environments. In Portuguese, Earth and Culture Magazine, under review.
Gomes, LM, Modular Architecture's Production. In Portuguese, Anais of the I National Symposium of Undergraduate Research. Londrina, pp 154-156, 2011.