Mahbub Rashid
---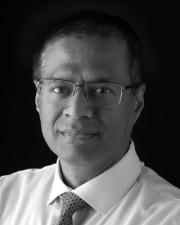 Dean of the School of Architecture and Design
Professor of Architecture
Contact Info
Marvin Hall, Rm 200
Lawrence

---
Biography
—
Dean Mahbub Rashid is a tenured full professor in the School of Architecture & Design at the University of Kansas. With a Masters from MIT and a PhD from Georgia Tech,
Dr. Rashid is an expert in theories and methods of architectural research with a focus on the structures of built form and space. He uses innovative spatial and social network, fractal, and statistical analysis along with more traditional research methods and methodologies to study the effects of built form and space on human behavior, psychology, society, and culture in office, healthcare, and urban environments. With his colleagues at several other universities, Dr. Rashid has worked on research projects worth over $4.5 m in total. The sponsors of his research projects include, among others, the National Institutes of Health (NIH), the Centers for Disease Control (CDC), the General Services Administration (GSA), the Agency for Healthcare Research and Quality (AHRQ), the Robert Wood Johnson Foundation (RWJF), Steelcase, Herman Miller, the University of Kansas Medical Center, the MD Anderson Cancer Hospital, the Texas Tech University, and the Greenville Memorial Hospital. Registered as an architect in Georgia, USA, Dr. Rashid also works as an architectural consultant for reputable architectural design firms.
Dr. Rashid is a nationally known expert on intensive care unit (ICU) design and evidence-based healthcare design. Dr. Rashid has over 90 major and minor publications. His major publications include about 70 peer-reviewed articles (52 of them as the sole and/or main author) in journals such as Critical Care Nursing Quarterly, Current Opinion in Critical Care, Ekistics, Environment and Planning B: Planning and Design, Environment and Behavior, Facilities, Geoforum, Health Environments Research & Design Journal, International Journal of Architectural Computing, International Journal of Behavioral Nutrition and Physical Activity, Journal of Architecture and Planning Research (JAPR), Journal of Behavioral Sciences, Journal of Healthcare Engineering, Journal of Architecture, Journal of Corporate Real Estate, Journal of Urban Design, and Urban Design International. He has also presented and co-presented in more than 70 national and international peer-reviewed conferences, and has made at least 30 invited presentations. Dr. Rashid's publications have been cited over seventeen hundred times by others in scholarly publications. His recent book The Geometry of Urban Layouts was published by Springer Science. The book compares more than one hundred cities around the world using rigorously defined metrics for such important urban qualities as accessibility, complexity, continuity, compactness, and granularity. His second book Physical Space and Spatiality in Muslim Societies: Notes on the Social Production of Cities is currently being published by the University of Michigan Press. Dr. Rashid is now working on his third book Built Environment and Population Health in Small Town America: The Examples of Kansas for publication by the Johns Hopkins University Press.