Spring 2022 KU Design Symposium Lecture Series
---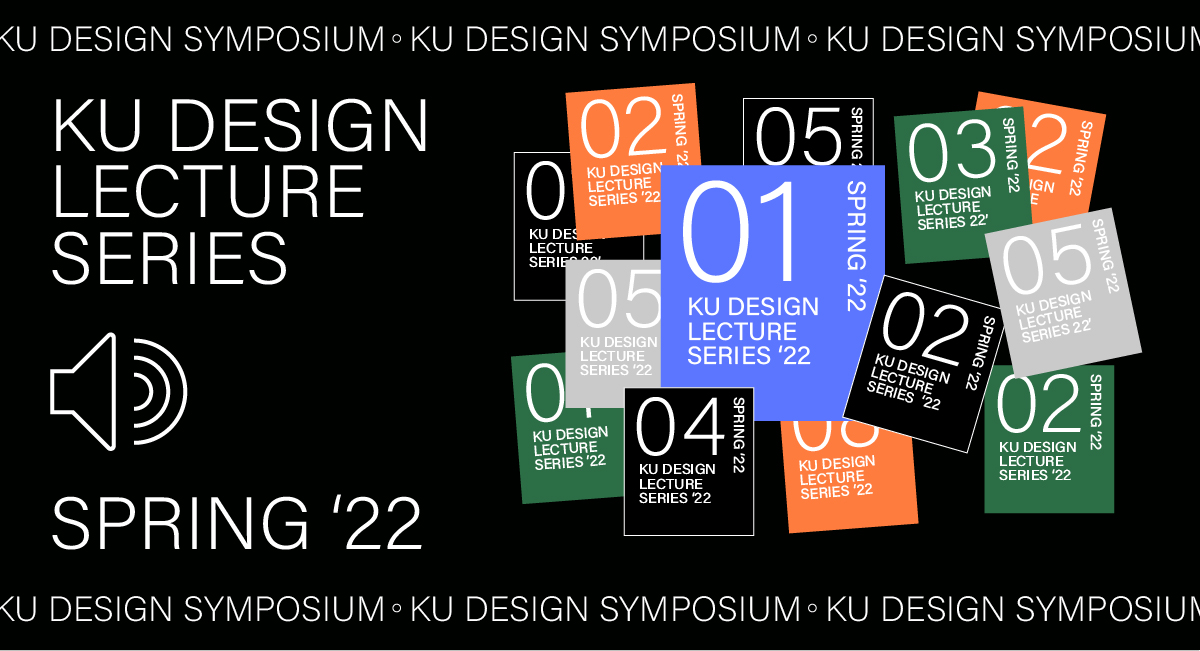 LAWRENCE — The School of Architecture & Design at the University of Kansas has announced programming for the Spring 2022 KU Design Symposium Lecture Series.
The KU Design Symposium Lecture Series (formerly the Hallmark Symposium) was established in 1984 to enrich the education of all KU students, and in particular those in the Department of Design, through exposure to designers, artists and educators from across the United States and around the world. In its 35-plus year history, the series has become a cultural asset to the local creative community beyond the Lawrence campus. Each year, students and professionals view groundbreaking work, explore provocative ideas and learn from the practitioners who are expanding what is possible through art, design and creative action.
KU Design Symposium lectures are free and open to the public online. All lectures begin at 6 p.m. See School of Architecture & Design events calendar for Zoom details.
Jan. 27
Industrial designer Lea Stewart has 20 years of working knowledge in many industries including consumer products, furniture, lighting, juvenile products, commercial products, medical products, packaging and display design. In her current role as senior manager, industrial design, at Newell Brands she leads a global team of designers and engineers to develop baby products for recognized brands like Graco, Century and Nuk that bring sanity, safety and joy to families. In January 2022, she assumed the role of Women in Design Central District Representative for the Industrial Designers Society of America. She is also on the Board of the Women in Industrial Design Chicago community group.
Feb. 10
Illustrator Brian Stauffer's work bridges both traditional and digital realms through a combination of hand-drawn sketches, painted elements and scanned found objects. As a contributing artist to publications including Esquire, GQ, The New York Times, The New Yorker, Rolling Stone, TIME Magazine and over 300 others worldwide, Stauffer's illustrations are best known for their conceptual take on social issues. His images are in the permanent collections of the American Institute of Graphics Artists, the Art Directors Club of New York, the Museum of the Society of Illustrators in New York, the Newseum of Washington, D.C., and The Wolfsonian.
Feb. 24
User experience designer Stephen Hassard has over 12 years of professional experience developing creative solutions through a human-centered approach to design. Using complementary qualitative and quantitative research methods, he works to create solutions-based interactions with technology that is humane and responsive to the needs and wants of users. Hassard is a UX research manager and senior user experience researcher at Google.
March 24
Industrial designer Jason Keenan specializes in consumer products and automotive design. During his 20-plus year career, he has worked freelance, with consultancies and for in-house studios at both small companies and global corporations. He has been issued multiple utility patents and has created numerous award-winning products. His artwork has been featured in commercial art galleries and juried exhibitions. Keenan is currently a senior designer with Ford Motor Company in Dearborn, Michigan. 
April 7
Tarrah Krajnak is a photographer and associate professor of art at Pitzer College in Claremont, California, where she is also the director of the Munroe Center for Social Inquiry. She produces and hosts "The Careful Photograph," a podcast series highlighting Black, Indigenous and people of color voices in contemporary photography. Her work has been exhibited at Art Basel, Paris Photo, Houston Center for Photography, Silver Eye Center for Photography, Center for Photography Woodstock, SF Camerawork and the National Museum of Women in the Arts, among others. Her first monograph, "El Jardín De Senderos Que Se Bifurcan," was published with DAIS books in May 2021. The book was shortlisted for the Aperture/Paris Photo First Book Award and named to the Museum of Modern Art's inaugural list of 10 photo books of 2021.
April 21
Yuko Shimizu is a Japanese illustrator and educator based in New York. Her work has been featured on the pages of Newsweek, The New York Times, The New Yorker, TIME and WIRED. She has created covers for DC Comics, Penguin and Scholastic as well as advertising projects for Apple, Hasbro, Intel, Microsoft, MTV, Nike, Paramount, SONY, Target and Universal Pictures. Additionally, she has collaborated with the Library of Congress, the Philadelphia Museum of Art and the Smithsonian Museum. In 2020, collaboration with Artechouse brought her drawings to large-scale interactive experiences. Yuko is a two-time Hugo Award nominee (2019, 2020) and has won more than 15 medals from the Society of Illustrators since 2004. In 2021, she was awarded the Caldecott Honor, one of the highest awards for picture books, for her work on the children's book "The Cat Man of Aleppo" (Penguin, 2020). Shimizu was also chosen as one of the 100 Japanese People the World Respects by Newsweek Japan in 2009.