KU architecture students use spring studio to reimagine transit in Kansas City
---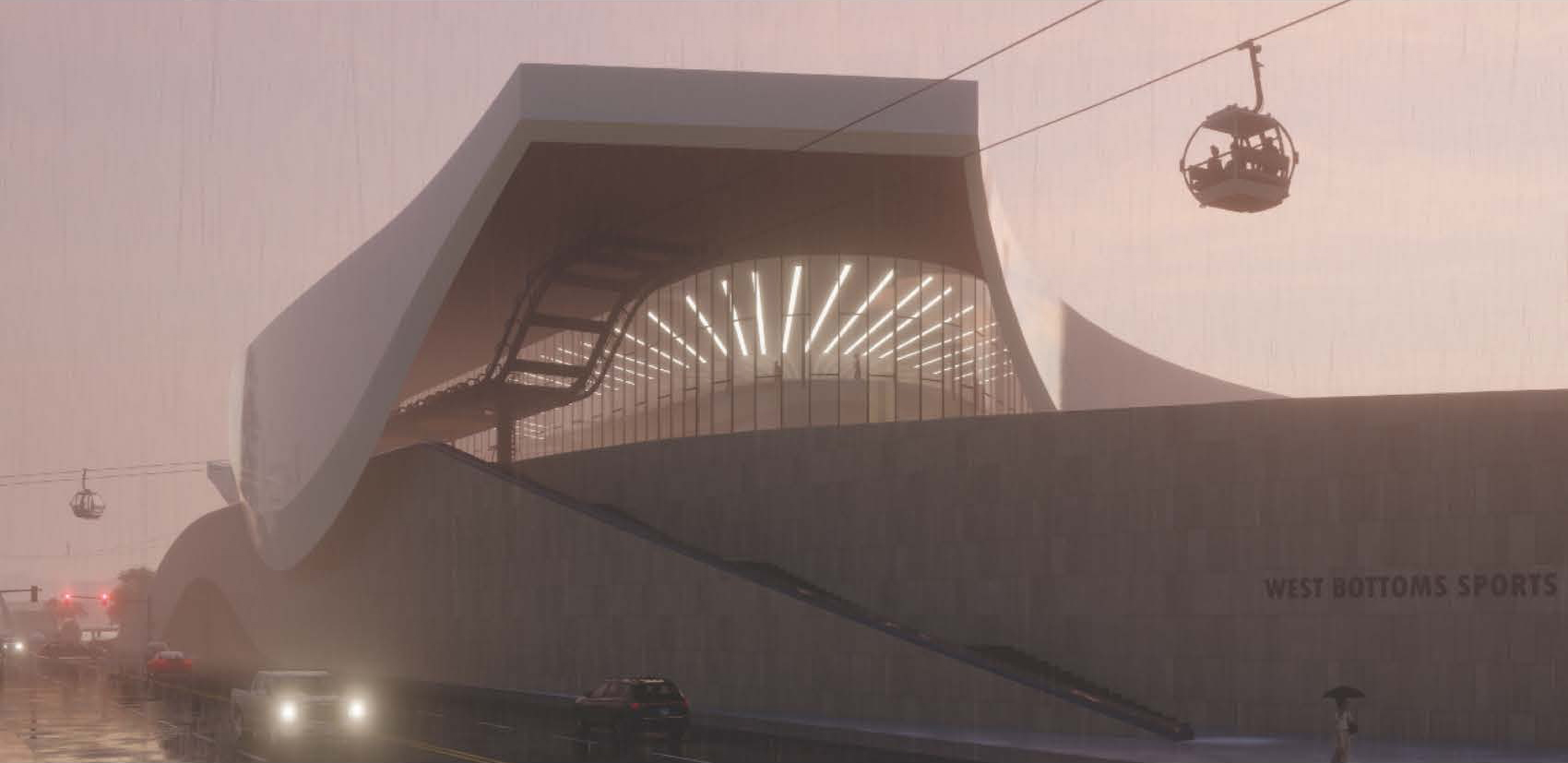 LAWRENCE - Could a gondola transit system be a practical solution to connect neighborhoods and create economic opportunities in Kansas City? Graduate architecture students at the University of Kansas School of Architecture & Design used a solutions-based approach to this imaginative idea to show how it could work.  
Aerial gondolas in the United States are mostly used to move skiers at mountain resorts or as novelty attractions for tourists. However, in many cities around the world gondolas are a key component of multi-modal public transportation systems. Increasingly, American cities are studying the use of gondolas to efficiently and cost-effectively allow people to travel within urban areas without increasing traffic congestion and pollution. During their final semester in the Master of Architecture program at KU, students in Andrew Moddrell's Sports & Entertainment Capstone studio were tasked with planning a gondola system that could connect Kansas City, Kan. and Kansas City, Mo.  
The concept for the studio was sparked by a proposal request from the Unified Government of Wyandotte County and Kansas City, Kan. to PORT, the architecture and urban design firm of which Moddrell is a founding a partner. PORT was hired to develop a master plan for the Armourdale neighborhood in Kansas City, Kan., and it was then that Moddrell first learned about the idea for a gondola system for Kansas City. 
"Gunnar Hand is the Director of Planning and Urban Design for Unified Government," Moddrell said. "The initial proposal from Gunnar was this idea of linking downtown Kansas City, Kan. to Kansas City, Mo. with a gondola system as an alternative commuting infrastructure and tourist infrastructure. It was a short little route, and it was one little idea that we incorporated into this master plan." 
Moddrell was intrigued by the idea, so he asked Hand if he could proceed with the idea for the Sports & Entertainment Capstone at KU, which he would be teaching in the spring 2022 semester. Hand agreed. 
"In your final year, you do a 6-month externship, which is structured under different cohorts," Moddrell explained. His cohort, Sports & Entertainment, was a 12-person design studio which spent the fall semester working at different firms around Kansas City and then came together in the spring for the Capstone studio, which was hosted by HNTB at their Kansas City office. There, each of the students developed a proposal that matched their respective research interests.  
Divided into groups that focused on three different neighborhoods – downtown Kansas City, Kan., downtown Kansas City, Mo. and the West Bottoms – the students developed projects that detailed how integrated planning could bring about new ways for residents and visitors to access and engage with the cityscape. Projects included mixed-use gondola stations with housing, retail, cultural, and recreational amenities, and various strategies to connect the gondola system in a way that is responsive to the needs of residents and businesses on both sides of the state line. 
"When you take on a big urban project like this, it allows the students' interests to fall in wherever they want," Moddrell said. 
Erin Ott, a graduate from St. Louis, Mo., designed a public park in the West Bottoms for her project. For her, the concept of designing a public space accessible by the gondola system was intriguing. "In architectural design, you design buildings. But I was more interested in a public space design."  
Inspired by her hometown and the Gateway Arch National Park, as well as major cities like New York and Copenhagen, her presentation included a discussion of the value a park would bring to the West Bottoms. "It's a free public amenity. How do you make money from that?" To answer this question, Ott showed how providing space for food trucks could spur economic development and support local entrepreneurship. She credited Moddrell with helping her rethink how to present a concept that would help a decision maker choose to move forward.  
"The culmination of the studio was grounded in how to put together a presentation where you can speak to—and clearly make an argument for—an idea that people are inherently going to be a bit skeptical about," Moddrell said. "They had to make a case, or thesis, for why it was appropriate and how it fit into the larger story."  
Aaron Michalicek, also a St. Louis native, used his academic research on recreation centers and how the pandemic forced them to change as a launching point for his project. "The building I designed isn't just a recreation center. It's also a hub for transit for the gondola system." He said the relationship of his research to the project requirements made the process particularly interesting. 
Moddrell invited a group of Kansas City-area politicians, civic leaders, architects, and policy makers to review the completed projects. The students were each allowed no more than five minutes to present their project to the group of 25 professionals. 
Both Ott and Michalicek said the presentation was nerve wracking, but overwhelmingly positive. The challenge of selling a complicated project that took months to develop was great preparation for professional architectural practice.   
"You have to learn how to speak concisely and sell the idea, be passionate about it, within those 5 minutes," Michalicek said. "It's a challenge, but it's a challenge that everybody in the studio succeeded at very well." 
For now, the original gondola project is eligible for federal funding as part of the approved Armourdale project from PORT; the larger project remains speculative. The students in the Sports & Entertainment Capstone studio are now KU graduates who have moved into their careers as architects. Ott accepted a position at Arcturis, a design studio based in downtown St. Louis, where she will focus on mixed use, multi-family projects. Michalicek returned to Overland Park's DLR Group, where he did his externship in the fall semester of 2021. He will continue his focus on sports architecture at the firm. 
Image: Digital rendering from student project of proposed gondola station in the West Bottoms neighborhood of Kansas City, Mo. 
---
The School of Architecture & Design (ArcD) at the University of Kansas is a multidisciplinary professional school of design. The school's mission is to equip graduates with the insights and expertise needed to thrive as visionary professionals and contribute to society in ways that foster a more equitable, healthy, and ecologically sustainable future.  
arcd-news@ku.edu | 1465 Jayhawk Blvd, Marvin Hall, Lawrence, KS 66045