Andrew Moddrell
---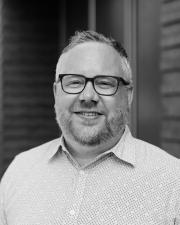 Associate Professor of Architecture
Biography
—
Andrew Moddrell is an Associate Professor in the Department of Architecture at KU and a founding partner of PORT, a Chicago- and Philadelphia-based public realm and urban design practice comprising landscape architects, urban designers, architects, and planners.
Andrew serves as a creative director of the office's public realm, planning and urban design projects including the Lakeview Low-Line in Chicago, IL; The Knoxville Battlefield Loop, Augusta Quarry Lake and Urban Wilderness Gateway Park projects in Knoxville, TN; the Library Lane Master Plan in Louisville, KY; the River Frames installation for the 2021 Chicago Architecture Biennial; the Armourdale Area Master Plan for the Armourdale District in Kansas City, Kansas; and the design of a new 110-acre Gateway Park for the City of Bentonville, Arkansas as part of the Walton Family Foundation Design Excellence program.
PORT's work has an established national profile with recent work in Philadelphia, Chicago, Boston, Knoxville, Columbia, MD, New York, Cleveland, Kansas City, Louisville, Denver, and Los Angeles, as well as in Irapuato, Mexico. PORT's work has been repeatedly recognized by the American Society of Landscape Architects and the American Institute of Architects, garnering nineteen awards of honor or merit since 2018. In February of 2020, PORT was recognized with an Emerging Voices Award from the Architectural League of New York, given to a North American design practice with a significant body of realized work on a trajectory to meaningfully influence the future of their field.
Prior to joining The University of Kansas, Andrew was a Visiting Assistant Professor at the University of Michigan Taubman College of Architecture and Urban Planning; a Clinical Assistant Professor at The University of Illinois-Chicago School of Architecture; and a Research Associate at the Illinois Institute of Technology.
Andrew received his B.Arch with from the University of Kansas and M.Arch from Yale University.