Matthew Cook
---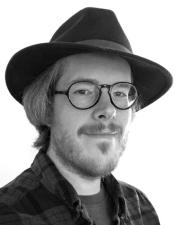 Assistant Professor, Illustration & Animation
Faculty Fellow, Center for Design Research
Contact Info
Chalmers Hall, Rm 504
Lawrence

---
Biography
—
Matthew Cook likes to draw, and loves animation. He has been practicing his drawing ever since he could hold a crayon, but most recently he studied illustration at the University of Kansas, earning a BA in 2010.
Matthew is also an engineer and has earned a BS and MS in Computer Science, both from the University of Kansas.
As a professional Matthew has been working as a freelance visual development artist for a variety of clients creating concept art, storyboards, and character designs for live action and animated media. His clients include Bazillion Pictures, Quixotic Dance Company, SHS, BranitFX, and Beat by Beat Press. Matthew also occasionally provides technical expertise, and has worked as a video game designer and programmer.
Along with his teaching duties, Matthew currently also works as a senior product designer for the Wilton Company, designing and illustrating stickers and other crafting products for the JoLee's Boutique, K&Company and Sticko brands.
Education
—
M.S. in Computer Science, The University of Kansas, 2007