May Tveit
---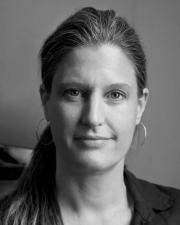 Associate Professor, Industrial Design
Contact Info
Chalmers Hall, Rm
Lawrence

---
Biography
—
May Tveit is an artist who draws from her formal training in Industrial Design, taking the materials of commerce and industry, and using them to build abstractions.
Her large scale and formally succinct sculptural work and installations are impactful, relevant and memorable. Found in traditional art venues or in nontraditional settings her installations may exist for a few hours, days, or longer. She typically employs readymade products and architectural structures to investigate systems of order, desire, and use. Her current sculpture and monoprint work explore geometric configurations of cardboard boxes and physical/metaphysical aspects of the self and being. Tveit's recent solo, two person and group exhibitions include (Universal Boxes) Nerman Museum of Contemporary Art, (Fields, Planes, Systems: Self) Farmprojects, (Drop Unit) Greenlease Gallery (Template Days) UK Art Museum and (Art on Paper) at the Weatherspoon Museum. Her work has been featured in Art in America, Art Papers, National Public Radio, Bad at Sports, among other periodicals. Tveit is a Charlotte Street Foundation Fellow and has participated in the Anderson Ranch, Haystack, Art Omi, Frans Masereel Centrum residency programs.
She received her BFA from the Rhode Island School of Design, studied in Rome with the RISD European Honors Program, and received her Masters degree from the Domus Academy in Milan, Italy. Tveit has taught at the Rhode Island School of Design, the Kansas City Art Institute and currently is an Associate Professor at the University of Kansas. 
"I'm interested in conceptual approaches to problem responding, physical material play and building, and the burred boundaries between Art, Design, and Architecture." 
"Design is the Art that meets us in everyday life"  
~ May Tveit 
Education
—
MID, Domus Academy in Milan, Italy, 1991
BFA, Rhode Island School of Design