May Tveit
---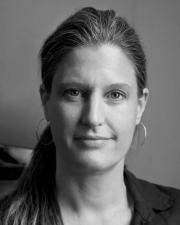 Associate Professor of Industrial Design
Biography
—
May Tveit is an American born contemporary artist and educator who works in the disciplines of installation art, large-scale sculpture & public art. Her sculptural and experiential environments are meticulously detail-oriented, materially driven by concept, often are site-specific and are inspired by issues related to: the life & death of the American factory; suburban development; capitalism and consumption; and corporate globalization. May Tveit is an artist dedicated to creating art experiences that are thought provoking, experientially powerful and critically relevant to our times.
Tveit graduated in 1989 from the Rhode Island School of Design with a BFA in Industrial Design and in 1991 with a MID from the Domus Academy in Milan, Italy. It was in Milan where she began her hybrid art and design career in 1991 working as a freelance designer and fabricator with renowned architect-designer- theoreticians Andrea Branzi, Enzo Mari, Alessandro Mendini and Denis Santachiara.
In 1995, she became an instructor at the Rhode Island School of Design "giving back everything she didn't get" as a student and eventually moved to Kansas City, Missouri, taking a teaching position at the Kansas City Art Institute (1996-1999) and the University of Kansas (1999-present) where she is currently a tenured Associate Professor in the School of Fine Arts, Design Department.