Muhammad Fajri Romdhoni
---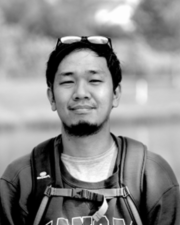 PhD Student, Architecture
Biography
—
Muhammad Fajri Romdhoni is a doctoral candidate from The University of Kansas, He is an Indonesian architect that received his Bachelor's degree from Parahyangan University, got his Engineering Master's degree from Bandung Institute of Technology, and a Masters's of Arts from the University of Kansas. He has been practicing architecture, a certified architect in his country and also teaching architecture at the University of Sriwijaya, Palembang Indonesia. Romdhoni's interest lies in applied architecture, digital spatial morphology, architecture heritage and revitalization, juxtaposition, GIS technology, computing, Urban Design, and Urban geometry. He is currently pursuing a graduate Ph.D. at the University of Kansas School of Architecture and Design under the Fulbright Scholarship.  
He is currently working on understanding the Urban Form in Indonesian cities, using more recent techniques from GIS and Python computer language including data source from VGI – volunteered geographic information such as OpenStreetMap. This method will shed more light to the morphology of modern cities in Indonesia from the colonial past and what is the interrelation between Indonesian cities related to their regional zones. From this research, he hopes to academically contribute to the planning of the new Indonesian capital. 
Education
—
B.Arch , Parahyangan Catholic University, Bandung, Indonesia
M.T., Bandung Institute of Technology, Bandung, Indonesia
M.A. in Architecture, University of Kansas
Selected Publications
—
Romdhoni, M. F., & Rashid, M. (2020). URBAN GEOMETRY: CITY SHAPE AND SPATIAL LAYOUT OF 6 INDONESIAN GOVERNMENT CENTERS. DIMENSI: Journal of Architecture and Built Environment, 47(2), 71-86. 
Romdhoni, M. F. (2020). The Use of Landsat Image and Census Data for Modelling Population Density and Urban Density in Palembang, Indonesia. Journal of Architectural Research and Design Studies, 4(2), 67-76. 
Romdhoni, M. F. (2020). Historical Evolution of Placemaking in Historic City of Palembang, Indonesia. International Journal of Built Environment and Scientific Research, 4(2), 85-100. 
Romdhoni, M. F. (2020). UNDERSTANDING THE URBAN POPULATION DENSITY AND GROWTH CONCENTRATION IN PALEMBANG INDONESIA. Journal of Architecture&ENVIRONMENT, 19(2), 187-204. 
Romdhoni, M. F., & Rashid, M. (2019). Street Angularity and Patterns in Palembang and Yogyakarta, Indonesia. Proceedings of Indonesia Focus, 1(1).