Diversity, Equity, Inclusion & Belonging
Statement on a Diverse, Inclusive and Equitable Community
The School of Architecture & Design is dedicated to an inclusive, diverse and equitable learning, teaching and working environment for its community of students, staff and faculty. We believe that the process of design is elevated when differences are respected, ideas are shared and people are connected. We recognize that all people should have a say in the creation of their own environment. 
As we aspire to advance the culture of diversity, equity, inclusion and belonging at the School of Architecture and Design, we will do so within the framework laid out by the University. This task demands a collaborative approach and one that integrates culturally competent protocols and policies in our everyday ideas, thinking and practices. 
To fulfill this mission, we focus on four priorities. Each priority represents objectives, initiatives, and indicators of success that are designed to achieve excellence, generate organizational change, and ensure community accountability to facilitate progress of diversity, equity, inclusion, and belonging within the school. The development and execution of these initiatives is an on-going effort with regular feedback, refinement, and reallocation of resources.
1. Building a diverse community of students, staff, and faculty
Growth of a diverse student body at the school is linked to generating awareness and interest in the design professions among high/middle school students of predominantly underrepresented populations. Several pathway programs are established for this purpose. To build a socially diverse community of faculty and staff, the School follows KU's guidelines in recruiting faculty and staff.
2. Ensuring students' success
Having recruited students from historically underrepresented and underserved populations, the school's mission is then to ensure that students receive necessary support to thrive in their education, gain necessary skills to become competent designers, develop confidence in themselves, and receive guidance for professional development. A more critical aspect of this goal is to maintain a high rate of retention of minority students within their respective degree programs and to help them graduate in time. This goal could be achieved in terms of financial support and academic mentoring the students receive to address historical disparities and inequalities in economic and opportunity equities that they have encountered.
3. Offering learning & research experiences that address DEIB concerns in design disciplines
Design education as well as design professions have predominantly been Euro-centric, racialized, and patriarchal for centuries. Our studios and courses should create learning and creative opportunities that facilitate students to be informed of such biases in the social history of our design professions and design education. Designing curricula with attention to DEIB in design education thus means that students receive opportunities to learn about, value, and respect a broader spectrum of non-western and multicultural histories, experiences, and approaches to design the built environment, visual media, and products. They should learn how policies, practices, and products associated with design professions could be means of social discrimination, underpinned by political intentions geared toward social injustice. Students should be conscious of designing inclusive and universal spaces, media, and products for all groups of people. Understanding the privileged status that design disciplines have in the larger society should also help students to learn about how to engage the values, needs, and views of the underprivileged in the design process.
4. Creating an inclusive place for all at the school
It is the collective responsibility of students, staff, and faculty to create a positive and supportive climate at the school. When we all are engaged in the creative activities together and we all feel valued and respected, a strong sense of belonging among all as a single school community will emerge. Feeling being included and a part of the school community is the outcome of all DEI initiatives.
Annual Summer Design Camps
Design Workshops and Design Foundations Curriculum for high/middle school teachers
Outreach to high/middle schools and community colleges in the region with large minority student populations
Collaborations with community partners such as Public-School Districts in the region, NOMA-KC, AIA-Wichita, and 20/20 Leadership Program in Kansas City for developing pipeline programs
Multicultural Design Scholars Program (MDSP)
Kwame Study Abroad Scholarships for African American architecture students
Academic/Career mentoring and access to mental health counseling
Student Success Programs such as Peer Mentoring, Portfolio Review, and Mock Interviews
Developing specific courses on design ethics/design justice
Integrating DEI content in classroom/studio activities
Offering co-curricular activities that introduce students to discourses on design justice
Kivett Faculty Development Fund for teaching and research into DEIB in architecture
Listening sessions with student groups, staff, and faculty
Financial support for activities organized by student groups
Effective faculty/staff mentoring and professional development
2022-2023 Activities
Diversity Alliance at the School of Architecture & Design
The School of Architecture & Design has renewed their efforts to increase diversity at the school by striving to create an inclusive, diverse, and equitable learning, teaching, and working environment for its students, staff, and faculty.  To help make this a reality, the school has formed a group of architecture and design firms known as the Diversity Alliance, who recognize the lack of diversity within our profession, feel an urgency to address this inequality, and have the desire to support the school's efforts in this area. To become a member of the Diversity Alliance, firms are asked to make a 5-year funding commitment, based on the firm's size, to any of the school's DEIB initiatives. Members of the Diversity Alliance will meet with the school's DEIB leadership and students once a year to discuss the past years' efforts, plan for the upcoming year, and receive updates on overall progress towards increased diversity. Each member firm will also be able to send employees to studio reviews, portfolio reviews, or other similar academic and professional development opportunities to interact directly with students and review their work. When possible, these reviews will include DEIB student groups within the school such as MASP, MDSP, ID-BIPOC, and NOMAS.  The kick-off meeting of the Diversity Alliance will be held on October 20, 2022.
KU Design Camp 2023  
In June 2023, the School's annual Design Camp provided a partial fee waiver to 12 high school students in the Kansas City metropolitan area school districts to attend the one-week camp and learn about architecture and design. Students from the 20/20 Leadership Program in Kansas City came from F.L. Schlagle High School, Sumner Academy of Arts and Science, and J.C. Harmon High School. Nine students from the Kansas City Public Schools District came from East High School, Lincoln College Preparatory Academy, Paseo Academy, and Southeast High School. Campers stayed on campus for the week in Oswald Hall and dined in Mrs. E's dining center. The week included campus tours, a keynote speaker (Designer Titus Smith), academic spotlight presentations on Illustration & Animation, Industrial Design, Photography, Visual Communication, Architecture, and Interior Architecture, and evening activities such as visits to the Spencer Museum of Art on campus and Sylas & Maddy's Ice Cream on Massachusetts Street. Campers chose a morning and afternoon academic workshop to attend during the week. The morning workshops topics included Urban Sketchbook (Kent Smith), Footwear Design (Betsy Barnhart), Editorial Illustration 101 (Titus Smith), What the Zine (Alec Smith), and Architecture: A Spatial Journey (Anne Patterson). The afternoon workshop topics included Creative Characters and Creatures (Kent Smith), Utilizing Digital Fabrication Tools (Amy Van de Riet), Experimental Darkroom Photography (Christina Santner), Packaging Design (Jeremy Shellhorn), and Designing in Virtual and Augmented Reality: From User Empathy to Prototyping (Mohammad Dastmalchi). On the last day, students presented their workshop projects to their families, guests, and teachers, and received certificates of participation at the closing reception. The camp was coordinated by School staff members April Czarnetzki, Raina Miyake, and Whitney Juneau and current KU Design students Tim Do, Sophia Graack, Emma Milburn, Meg Overbaugh, and Molly Smith served as resident assistants for the campers.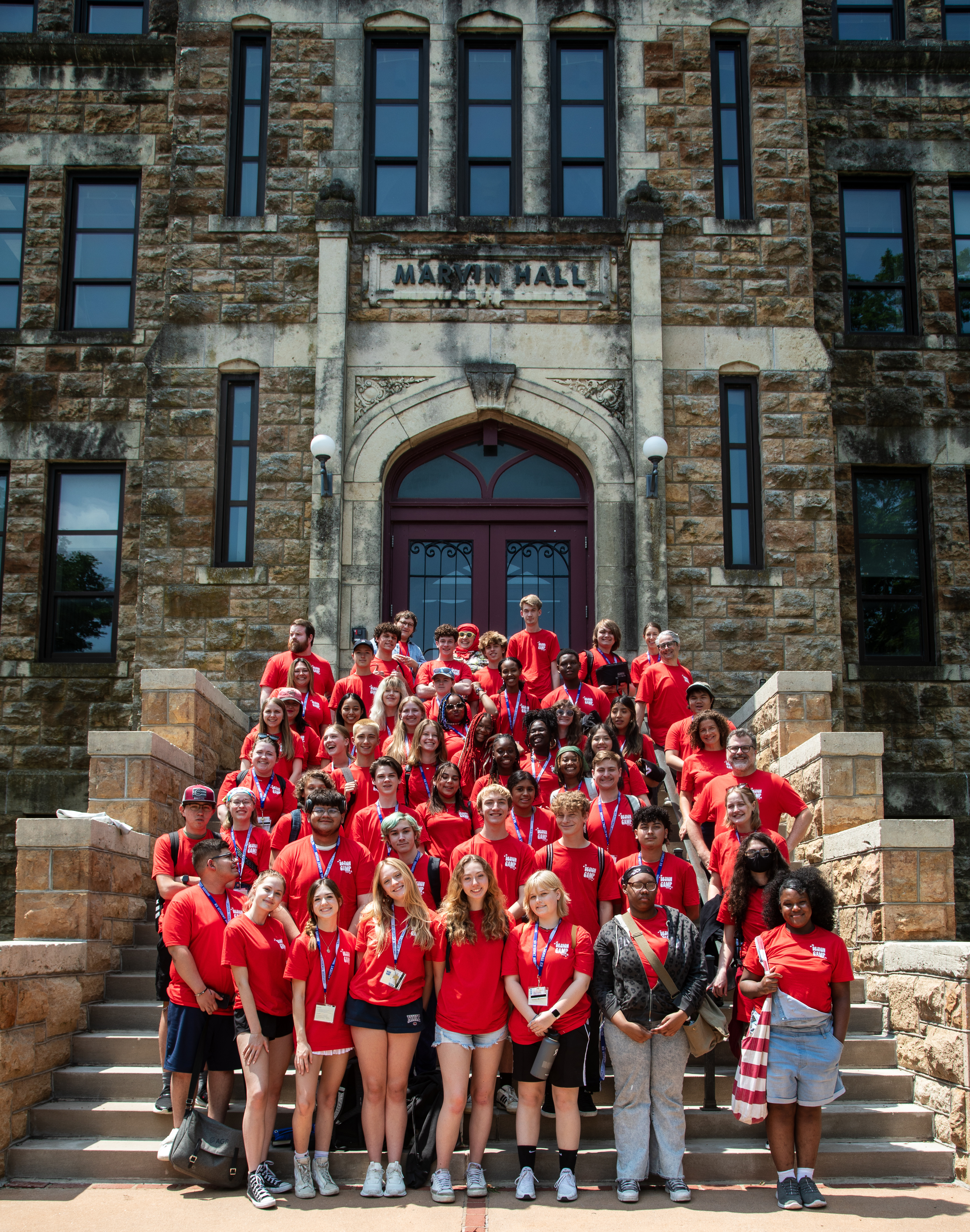 2023 Summer Design Camp students on the entry stairs to Marvin Hall.
KU Design Camp + Pathways to Design | Summer 2023 
Sam Yates Meier, a multi-term lecturer in Visual Communication, facilitated a week-long summer adaptation of KU's Design Camp. The collaboration between KU's School of Architecture and Design, Pathways to Design, Prep KC, and the Hickman Mills School District was coordinated by Meier. The workshop included Kansas City, Missouri, high school students who participated in a branding workshop where they created and explored brands, logos, and graphic design. 
Pathways to Design is a program that introduces students to design software and builds on learning objectives as their various programs progress. Students have professional mentors within different industries to give them a glimpse of what the professional side of their learning skills can translate into. Some students can also receive college credit for participating in the courses. Prep KC creates and implements strategies that help students attending Kansas City's urban school districts succeed in college and their careers. This program is the third installment in partnership with KU's Design Department and KU's ArcD Design Camp.