Farhan Karim
---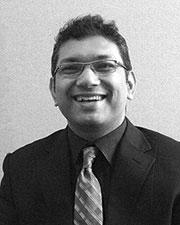 Associate Professor of Architecture
Biography
—
Farhan Karim is Assistant Professor of Architectural History. Prior to joining the faculty, Karim taught at the Bangladesh University of Engineering and Technology (BUET) and the University of Asia Pacific. Karim received a PhD in architectural history from the University of Sydney, Australia. He earned his bachelors and masters degrees in architecture from the BUET.
Two historiographic agendas that shaped his research and teachings are to construct a global architectural history from the micro narrations of geopolitically segregated nation-states, and to examine architectural history from an interdisciplinary perspective of cultural transformation. His PhD thesis Global Transference of Architectural Modernism: India between 1937 and 1959 studies an array of colonial and postcolonial home exhibitions in which, he argues, the emerging notion of third world modernism were entangled with a desire for universal modernism. By studying the formation, idealization, and representation of third world modernism, his research situates architectural history within the cold war cultural politics in South Asia.
Karim's current work focuses on three different areas. A historical inquiry of American Do-it-Yourself (DIY) culture (1948-1990) with a focus on the shifting notion of domesticity and what did that shift mean for postwar American woman is the first. His second project is cultural history of reinforced concrete in India (1910-1955), which traces the threads connecting architectural modernism, anti-colonial movement, and tectonic evolution in South Asia. His third project studies the development of modern architecture of undivided Pakistan (1947-71) that explores a trans-national perspective of postcolonial modernism as being a cold war construct of ideological transferences between local and global agencies. This research offers a trans-Asian perspective of the modern architecture of undivided Pakistan, in reference to the Euro-American ideal of a culturally hybrid modernism. It also offers a geopolitical perspective on modern architecture that documents the involvement of United States and Pakistani institutions and individuals in a project that defies the orthodoxies of post colonial studies: the United States as a struggling agent of postcolonialism.
Karim's research endeavors are connected to his pedagogical mission that historical study should contextualize students' consciousness within the existing economic, cultural, and ecological situation. His pedagogical goals involve reconciling the schism between the subjective boundary of the historical discourse and its social and environmental responsibilities.